Editor's Note: Learning Curve
I take a course from Floyd Scholz and create a bird.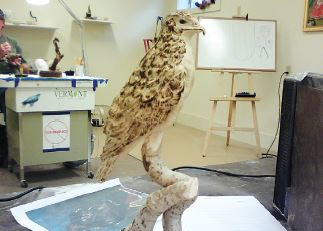 Photography by Tom Huntington
Perhaps my burning technique leaves a little to be desired. It smelled good, though.

Late last spring, I got a full-immersion carving experience when Floyd Scholz offered me a slot in one of the Vermont Raptor Academy seminars he teaches each year at the Bennington Arts Center in Bennington, Vermont. The class carved one-third-scale red-tailed hawks, mounted on natural wood. The seminar started at 4:00 on a Sunday afternoon and continued until around noon the next Saturday. 

A couple years ago, I took a class taught by Rich Smoker, and I completed a Ward brothers-style shoveler. That was another great learning experience. In Rich's class, we used all hand tools, but Floyd's class was power tools all the way. 

On Sunday afternoon, Floyd helped us set up our Foredoms and our micromotor tools, gave us our tupelo cutouts, which looked vaguely birdlike, handed out patterns and reference material, and provided a quick overview of what we were going to do. He promised us that we would all carve and paint a beautiful hawk by Saturday. I know my skill level, so I'll admit I had my doubts. 

On Monday, we started work with sanding mandrels on the Foredoms and commenced rounding the block. We roughed out the various feather groups. Bit by bit, my block of tupelo began to look more and more like a bird. Then we switched to our micromotors and began finer detailing with our various balls, flames, and cylinders. 

Floyd loves carving, and his enthusiasm is infectious. And he makes it look easy. One of the most surprising things for me was how quickly the time passed. The work required such concentration that each day flew by, and before I knew it, the week was over. It helped that Floyd insisted on a leisurely lunch (wonderful food brought in by a local caterer) and played good music as we labored over our birds. (He also told some bad jokes, but I wont hold that against him.) Whenever we needed to take a break, we could head upstairs and wander through the beautiful arts center, which had a whole room dedicated to Floyd's work.  

We carved, we burned, and we painted. On Saturday morning, we glued the birds to our mounts, added the feet, and we were done. I'll admit that my hawk looks like some unnatural cross between a raptor and a mourning dove and that ornithologists might question my feather layout. Still, it's my bird, and I'm pretty darned proud of it.

This article is from the Fall 2010 issue. For more information on our issues, check out our issues page.
YOUR RECENTLY VIEWED ARTICLES
Free tutorials, expert tips, exclusive partner offers, and more straight to your inbox!