10 Painting Videos with Floyd Scholz

Updated March 29, 2023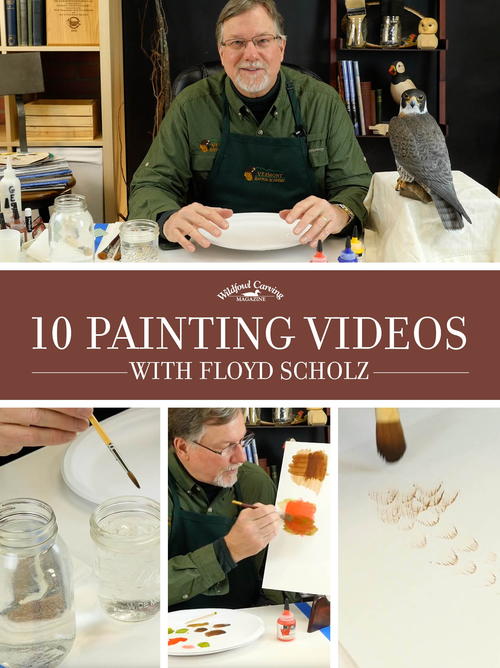 Master carver Floyd Scholz joins Wildfowl Carving Magazine in studio to demonstrate a variety of painting techniques, useful for carvers of all levels! A professional artist/carver since 1983, Floyd Scholz is universally recognized as one of the preeminent woodcarvers and painteres in the world today. He is a five-time U.S. National Champion and the 2005 World Master's Best in Show Champion. His work has been included in the prestigious Leigh Yawkey Woodson Art Museum's Birds in Art exhibition and in the collections of the Walt Disney Corporation, Sprott Asset Management Toronto, Pine Tree Capital Toronto, the Smithsonian Institution, and Cornell University. His work has also been featured in many publications, among them Forbes, Living Bird, Fine Art Connoisseur, Guitar Player, Smithsonian Studies in American Art, and People. As the author of five award-winning birds on raptors, including Peregrine Falcon: Dynamic Carving and Painting Techniques for a New Era, Scholz has shared his passion for birds and love of art with a worldwide audience. In 2014 the Ward Museum of Wildfowl Art in Salisbury, Maryland, named Floyd one of its "Living Legends."

Get a copy of Peregrine Falcon here.
Introduction: How to Paint Wildfowl Carvings
You want to be prepared before you begin painting your bird carving. In this video, Floyd Scholz explains what you should do before the paint hits the wood.
Surface Preparation and the Workspace
In this video, Floyd discusses how to prepare your workspace to paint your carving. He also discusses why he chooses the paints that he does along with recommendations for different brands, how to keep your brushes clean, brush recommendations, and more.
Washcoating
Floyd Scholz discusses how to washcoat your carving to create density and depth. He discusses how the washcoat paint adheres to the texturing of your bird, how to properly coat your brush and applying the paint for an even layer, how to layer your washcoats to create a rich color, what considerations to make when deciding on an intensity for the coloration, how to apply washcoats for tropical or brightly colored birds, how to mix in different shades of washcoats, and more.
How to Hold Your Brush

In this video, Floyd discusses the best grips and techniques for holding your brush to ensure a smooth, even coat of paint.
Color Wheel
In this video, Floyd discusses the advantages of using a color wheel to familiarize yourself with complimentary and analog colors that can be applied to your carvings.
Color Moods and Pyramid
In this video, Floyd Scholz discusses the importance of recognizing moods of different colors. He also discusses how to use a pyramid training technique to provide depth and realism to each carving.
Painting and Mixing Colors
Floyd discusses the art of painting and mixing colors, including how to apply gesso, how to think about tint and shade, why you should avoid black, why you shouldn't mix more than three colors together, and more.
Brush Detail Techniques
Floyd discusses which paintbrushes he uses most often and the different techniques he uses with each. He also shows different strokes he uses to achieve different effects, why paint consistency is important, how to manipulate the bristles of the brush to achieve different effects, how the atmosphere of the room affects the paint, and more.
Introduction to Airbrushing
Feeling intimidated by the airbrush? There's no need to be. In this video, Floyd Scholz provides some airbrush basics.
Airbrush Magic
In this video, Floyd discusses how to maintain the quality of your airbrush, how to get a consistent output, what an airbrush can and can't do, how to achieve the right consistency of viscosity with your paint, how to make a flat surface look 3-dimensional, and more!
YOUR RECENTLY VIEWED ARTICLES
Free tutorials, expert tips, exclusive partner offers, and more straight to your inbox!