Cedar Waxwing
The cedar waxwing has a number of distinctive elements that make it a popular subject for carvers.

Updated March 12, 2018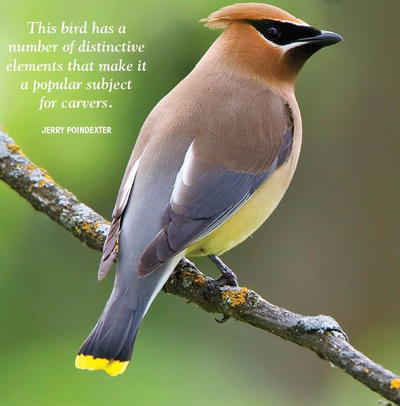 Photography by Glenn Bartley
The cedar waxwing gets its name from the wax-like "spangles" on the secondaries. Its mask and crest provide a couple more distinguishing characteristics.

A crested bird with a black mask, measuring between six and eight inches in length, the cedar waxwing (Bombycilla cedrorum) has subtle blended browns and a yellow tail band at the tips of the tail feathers. The red wax-like appendages of the secondaries from which the bird gets part of its name are sometimes missing. The waxwing eats a lot of fruit, so the other half of its name comes from its propensity to consume the berries from cedar trees.
Paints
ChromaColour International
Vandyke brown
Payne's gray
Ivory black
Burnt umber
Titanium white
Cadmium yellow light
Cadmium yellow medium
Yellow ochre
Cadmium red medium
Matte varnish
Liquitex       
Brushes
ChromaColour series 1a, #2 and #4
Measurements
Eyes: 5 (brown)

Wing cord: 93 (from the wrist to the tips of the longest primary feather)

Head width in front of the eyes: 14

Bill length:
Exposed culmen: 9
Gape: 14 
Width: 10
Bottom: 6
Tail length (visible):
36
Tarsus:
17
Toes:
Hallux—8 plus nail (5)
Middle—14 (plus 5)
Inner—11 (plus 4)
Outer—10 (plus 4)
Cedar Waxwing
Head, breast, nape, back, and scapulars
Apply 1 part Vandyke brown and 2 parts burnt umber with a touch of yellow ochre and a touch of titanium white or gesso. It is okay if some of this color goes over the lesser and greater coverts.

Malar
The malar has a wedge shaped marking of titanium white.

Beak
Use ivory black with equal parts matte varnish and water.

Chin
Under the lower mandible apply a mixture of 2 parts Payne's gray, 1 part ivory black, with a touch of Vandyke brown. Wet blend this color into the upper portion of the throat.

Head
The head has a black mask (lores and wedge-shaped patch at the back of the eye) of equal parts ivory black and Vandyke brown. Apply a thin outline of titanium white around the mask. 

Belly, sides, flanks and lower-tail coverts
Dampen this area with water to avoid any hard water lines and apply 1 part yellow light thinned with 15 parts gesso to make a pale yellow. Blend this into the titanium white lower-tail coverts

Primaries, secondaries, tertials greater, primary, and lesser coverts, alulas, and tail feathers
Apply 2 parts Payne's gray, 1 part ivory black with a touch of Vandyke brown, and a touch of gesso or titanium white. Keep in mind that the inner portion of the tertials are lighter and blend into the base color. The top 5 to 7 secondary feathers have an appendage of cadmium red medium.


The tail feathers have a band at each tip of cadmium yellow medium that stands out against the dark color of the tail feathers. The primary feathers are edged in a paler gray.

Rump, upper-tail coverts and leading edges of primary feathers
Make a paler gray with 1 part titanium white with a touch of ivory black and a touch of Vandyke brown.

Feet
Equal parts ivory black and Vandyke brown.
Tags / Related Topics
YOUR RECENTLY VIEWED ARTICLES