Quetzal III
After a long hiatus, the story takes a slight twist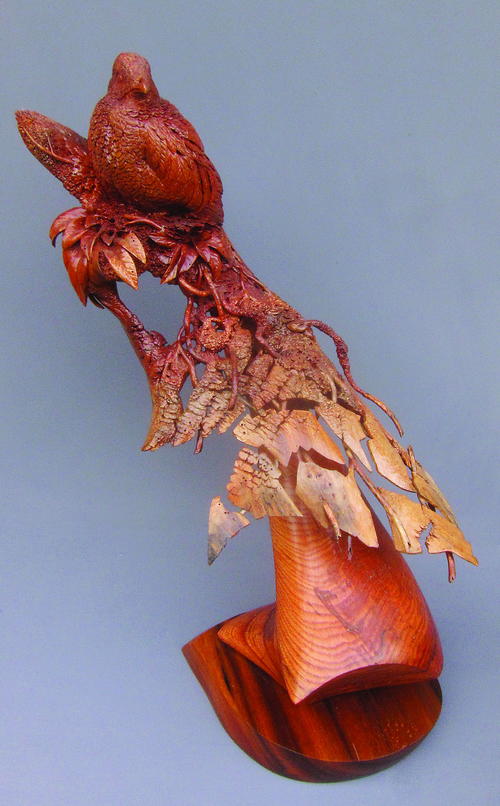 Photography by Keith Mueller
I started my quetzal sculpture in early December 2006, after finally getting delivery of the avocado stump I had found in Costa Rica. For the next few years I worked on the piece off and on until I stalled and put it aside for four years. After the break, I saw the carving with fresh eyes and a renewed sense of inspiration. I knew that I had already embedded most of the thematic components into it, and I was positive a few more ideas would drift my way while I worked. And they did, just as clouds drift through the cloud forest.

First, I wanted to extend the length of the stump perch. Costa Rica's Savegre Valley, where I spotted the quetzal, is an area with little level ground. Extending the length of the stump perch would emphasize a sense of the valley's long slopes. This required adding to the randomly placed pieces I had already put along the bottom of the stump. I was still holding these in place with small sticks and hot glue. I knew how I wanted to attach them permanently, but I wasn't ready to address that yet.

These new pieces would be distant from the quetzal, so I felt they needed little or no texture. Instead, I wanted to use the stump's original outer surface. The viewer's eye would travel from the tranquil textures at the bottom, through the textures on the stump, and culminate at the perched female quetzal. I added some knife cuts to some of the new pieces, giving another texture to the sculpture.

Thematically, the broken pieces at the bottom of the sculpture hint at the fragile and fractured environment, but the newly added pieces, smooth but with knife marks, represent the cleared land of deforestation. The knife marks signify the hand tools and labor that cleared those forests. The middle pieces, with the minimal detail, represent land that has been cleared, is being cleared, or is possibly being reclaimed. The remaining detailed section of the stump represents the remaining primary forests and hope for the future.

Read the rest of this article in Wildfowl Carving Magazine's Spring 2015 issue.
YOUR RECENTLY VIEWED ARTICLES
Free tutorials, expert tips, exclusive partner offers, and more straight to your inbox!