Five in the Oven
Gerald Painter went life-size for the 2016 Easton Waterfowl Festival.
By: Gerald Painter

Updated April 03, 2017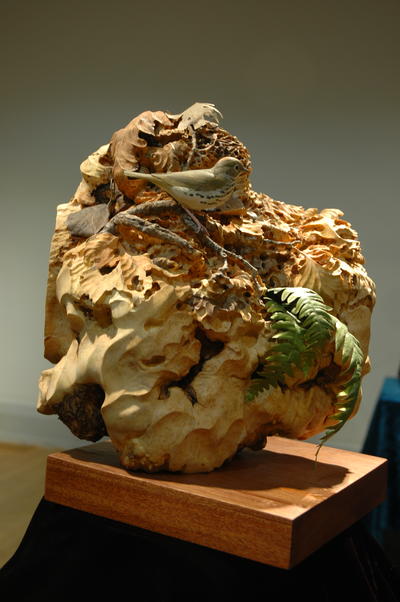 Photography by Tom Huntington
Self-taught carver Gerald Painter lives in a birder's paradise on the Missouri River in Montana. Jerry competes and has won top awards at shows like the Pacific Flyway, Columbia Flyway, and Ward World Championship, where he has placed in the top three in the World Miniature Division three times.
 
Every year the Easton Waterfowl Festival in Easton, Maryland, picks an individual as its Master Carver. In 2016 I was honored to be selected. Then I had a decision to make—what did I want to create for my centerpiece carving? I decided to do an ovenbird. I based the piece on a miniature I had done earlier—in fact, I had sold it at the previous Easton show.
 
Ovenbirds aren't terribly common in Montana where I live, but one was hanging around a few years ago, and that inspired the original miniature. Because they aren't very flashy birds I decided the piece had to be more about behavior and habitat. It started with a piece of box elder burl. I carved the nest and eggs, and I thought the bird fit on the piece really well. In fact, it won a first in songbirds at the Ward World Championship in 2015. I called that one Three in the Oven because it included the bird, a nest, and three eggs.
 
I called the life-size piece Five in the Oven because it included five eggs. There were a few other differences between the two. I left out a branch that I had in the miniature piece because I thought it would be a little distracting life-size. Another change is that first one was free-standing, but I added a piece of African mahogany to the bottom of the life-size version. In addition, the nest was actually part of the burl in the miniature. I couldn't do that with the larger piece because the back of the burl I used was starting to degrade and there wasn't enough good wood left for me to carve the nest. I made it separately instead. The basic shape is brass. I made some leaves and soldered them in place, and then I started stringing various gauges of brass that I had pounded flat so they looked more realistic. I hit the brass with a torch to oxidize it a bit and get some bubbles that would make it look a little more imperfect, then I primed and painted it.
 
I carved both pieces out of box elder burl. Box elder is similar to basswood—maybe a little harder— but it doesn't fuzz like basswood. It is very hard wood, though, so I use more aggressive bits in the rough-out phase. I have a lot of box elder on my property. It's a very short-lived tree, especially in Montana where the strong winds often snap them off. As a result, I don't know what to do with all the box elder I have. You don't find many carvers who use box elder. If you don't have a plentiful source like I do, it's very hard to find a good piece because so much of it has swirls in the grain that would end up as bumps in the carving. I have a lot on hand so I can sort through it to get what I need.
 
The ovenbird is also box elder, but I used straightgrained sections, not the burl. It is nice hard wood, which means you can really thin out a tail and the beak stays strong. I carve a lot of my miniatures from box elder, too.
 
The burl in this piece retained very little of its natural shape after I was done carving it. You can see a little bit of the original on the front, and a little bit of bark on the back. The process I used here is almost like relief carving. I used all power tools, mostly my 1⁄3-hp Foredom with some pretty aggressive bits. The burl was very hard—much harder and drier than the piece I used for the miniature. I worked on this piece for a month and a half, and I spent a month of that just shaping the burl. Sanding seemed to take forever. I highlighted a little with paint, mostly splattering, and tried to get a little of the color of the bird's crest into the piece without making it too obvious, just to tie it all together. I made the bird a little drabber than it really is. The belly is a little whiter on the real bird, but I didn't want it to stand out from the habitat. I thought this blended in better with the unpainted look of the burl.

This article is from the Spring 2017 issue. For more information on our issues, check out our issues page.
Tags / Related Topics
YOUR RECENTLY VIEWED ARTICLES