Exclusive Excerpt from Wings on the Water
Book Club Exclusive!

Excerpt from Wings on the Water

Northern Pintail (Anas Acuta) by Dr. Robert I. Smith
The pintail, also known as sprig, is one of the largest dabbling ducks. Found throughout the northern hemisphere, the pintail predominates in the western part of the United States, yet it still has far-ranging appeal as a subject for carvings and paintings.

A long, slender neck, distinctive head shape, and tail feathers that make up a full one-quarter of its total body length give the pintail an elegant, graceful look. Some describe the drake as having a royal air about him. The shape of hte bill also adds to its regal appearance. The upper surface of the bill slopes rather sharply downward from the skull to a nearly flat area about halfway from the tip.

Like most avian species, the drake's plumage immediately distinguishes it from any other species. In contrast, the hen's plumage tends to appear similar to that of other dabbling duck hens. The pintail drake in breeding plumage has chocolate brown and white plumage arranged in striking contrast, making it one of the most beautiful ducks. The two long, central tail feathers for which the species is named are black, while the other tail feathers are gray with white trim. The hen's plumage can range from brown to a gray that contains only a hint of brown.

Dabbling ducks feed in shallow water. On a scale of one to ten, with shallow water at one and deep water at ten, the pintail prefers feeding at one. The pintail feels at home when both feet are planted firmly on the ground while it excavates soil with its bill. in some situations, pintails feed in moist soil where there is no standing water. Its bill is designed for probing into moist soil for tubers, seeds and invertebrates. The bill of the drake is light blue and black. During the non-breeding season, these bill colors fade to shades of gray.

The typical setting for a pintail at rest is not a beaver pond or a stand of cattails but a bed of spikerush that is no more than five to ten inches high. This setting occurs in the Arctic, in the mountain valleys of the West, in shallow ponds on the prairies, and on tidal flats. In short, the pintail prefers open spaces.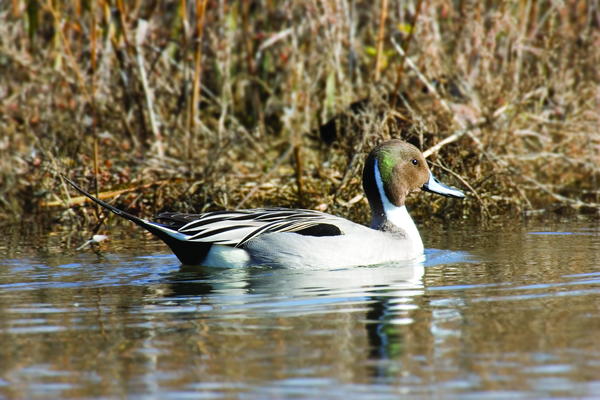 YOUR RECENTLY VIEWED ARTICLES
Free tutorials, expert tips, exclusive partner offers, and more straight to your inbox!