Editor's Column: Passion Is No Ordinary Word
Carvings go on display in Connecticut Museum.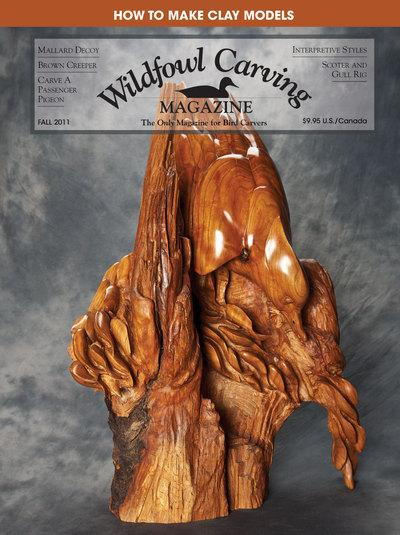 On the cover: Wes Demarest photographed Fausto DelGrosso's interpretive merganser at the Ward World Championship in Ocean City, Maryland. The piece won Third in World in the interpretive division.

When Kem Appell says that wildfowl carvings are his passion, he's not kidding. Visitors to the New Britain Museum of American Art in New Britain, Connecticut, saw that for themselves this summer when they viewed a temporary exhibit titled "One Man's Passion: The Art of Carved Birds," which ran through September 25. It featured a selection of what Appell has gathered ever since he was smitten by wildfowl carving during a visit to the Ward World Championship in the 1990s.

I received an invitation to the exhibit's opening reception. The museum galley had been transformed into an aviary of wood, with dozens of exquisite carvings on display. The list of artists included read like a who's who of contributors to this magazine. I saw work by Floyd Scholz, Victor Paroyan, and Jeff Rechin. Lonnie Dye had several birds, including a dazzling pair of scissor-tailed flycatchers that graced the cover of Wildfowl Carving's Spring 2000 issue. One of my favorite carvings there was Jean Minaudier's amazing Suzie and the Sweet 16 (you can see it in Competition 2007). And there was exquisite work by Gary Eigenberger, Jeff Krete, Judy Snyder, Peter Palumbo, Gilles Prudhomme, Pat Godin...and the list goes on.

A bunch of carvers were in attendance as well—real people, not wooden ones. Floyd Scholz delivered a short speech at the opening, demonstrating that Appell isn't the only person with a passion for the art form—what Floyd prefers to call "avian sculpture in wood." One great moment during Floyd's talk came after he showed the overflow crowd a sample of a freshly bandsawed blank for a gyrfalcon. Then, he held up an almost completed bird, a beautiful example of carving at its finest. The audience responded with an audible gasp of delight. I bet they kept gasping throughout the wonderful exhibition of Appell's collection. For many visitors to the museum, this was probably their first encounter with the world of wildfowl carving, and I hope some of them left with the realization that Appell's passion is infectious.

Floyd also expressed the gratitude he and other carvers feel towards collectors such as Kem Appell. It's because of their passion and commitment that many carvers can keep working and provide an opportunity for all of us to gasp with wonder and delight.

This article is from the Fall 2011 issue. For more information on our issues, check out our issues page.
YOUR RECENTLY VIEWED ARTICLES
Free tutorials, expert tips, exclusive partner offers, and more straight to your inbox!