Editor's Column: New Stuff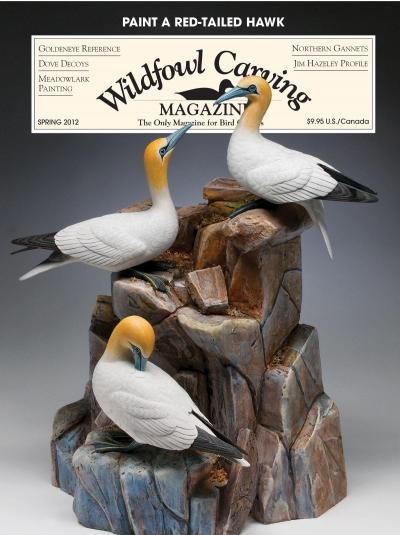 On the cover: Richard Gwizdak photographed Tom Park's northern gannets sculpture.

Wow! We have all kinds of interesting activity going on here at Wildfowl Carving Magazine world headquarters. The first thing I want to tell you about is our new book, Wings on the Water:The Great Gallery of Ducks, Geese, and Loons, a collection of reference material about our web-footed friends. If you love things that quack, honk, and do whatever it is that loons do, this book is for you. We've combined reference articles from past issues of Wildfowl Carving Magazine  with an incredible collection of photographs by Steve Maslowski to give you a close-up look at more than two dozen water birds. You can get a sneak peek in this issue's reference article on the goldeneye. Imagine a whole book like that! Even if you don't carve ducks, Steve's gorgeous photos will bowl you over. So check it out! 

Books have been around for a long time, but we're also rolling out something a little more new-fangled. Starting with this issue, Wildfowl Carving Magazine will be available in a digital format. We've partnered with a company called Zinio to create our e-magazine, which will be a complete version of the print edition that you can view on your phone or tablet or download to your computer to use wherever you need it. If you want to print out some pages and bring them to your workshop, bingo! No problem. You'll also find it easy to search all of the magazine contents. Our overseas subscribers especially will welcome this e-zine. Instead of waiting long weeks for the latest issue to wing its way across the seas, the e-version will zip through the ether in no time—without any pesky additional shipping charges. For more details about how to purchase our e-magazine, visit our website at www.wildfowl-carving.com. 

And speaking of the website—that's the third thing I want to talk about. Even as I type this, we are busy completing an upgrade of wildfowl-carving.com. Our new, improved site will allow us to post pictures and videos from the latest carving shows, add master class video demonstrations from the world's top carvers,and even launch a special Wildfowl Carving newsletter. Of course, we have to find time to get all that stuff done, but at least now we will have the platform to support it. The new site will also include all the things you've come to expect over the years, including our handy searchable index and our product pages. So whether you like ink-on-paper or bits and bytes, we have something new for you.

This article is from the Spring 2012 issue. For more information on our issues, check out our issues page.
YOUR RECENTLY VIEWED ARTICLES
Free tutorials, expert tips, exclusive partner offers, and more straight to your inbox!