Red-Naped Sapsucker
Its name to the contrary, this bird doesn't suck. Make sure your painting doesn't either.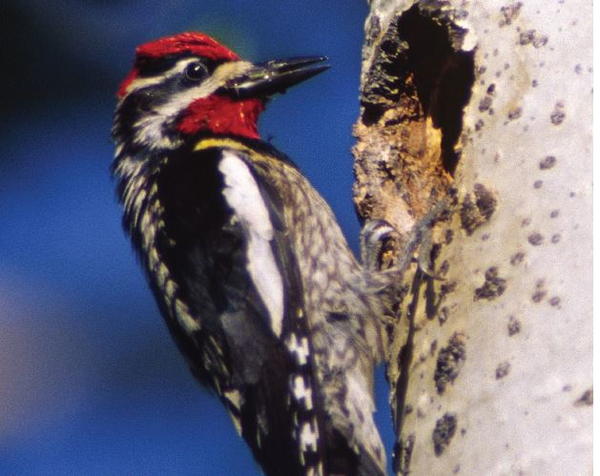 Photography by Mark Wallner
The red-naped sapsucker (Sphyrapicus nuchalis) is a woodpecker that prefers the lower elevations of the Rocky Mountains from British Columbia southward through the Cascades. It is basically red, white, and black with a yellowish underside. The black feathers are very hard to distinguish from one another as they are very dark. The only slight difference is that the inner webs are slightly lighter in color. Sapsuckers are somewhat misnamed, as the birds do not suck the sap from trees. Instead, they use the almost feathery edges of their tongues to lap or sweep it out. The red-naped sapsucker and its Eastern counterpart, the yellow-bellied sapsucker, are medium-sized woodpeckers measuring between seven and nine inches in length. The white patch of the median and greater coverts forms a large conspicuous longitudinal wing patch. The red-naped sapsucker has more red and less white than its Eastern counterpart does, and the red on the nape also sets it apart from the yellow-bellied sapsucker. Before painting, seal your carving with a 50-50 mix of lacquer and lacquer thinner, and let it dry overnight. Then apply gesso to obtain a white base color.

This article is from the Spring 2010 issue. For more information on our issues, check out our issues page.
YOUR RECENTLY VIEWED ARTICLES
Free tutorials, expert tips, exclusive partner offers, and more straight to your inbox!