Bird Carvers Flock to the 48th Annual Easton Waterfowl Festival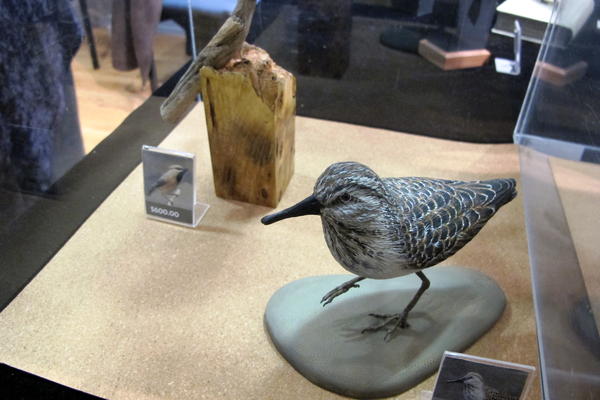 The Easton Waterfowl Festival, held every November in the town of Easton on Maryland's Eastern Shore, selects a Master Carver for each show. For the 48th annual festival in 2018, the Master Carver was Jeff Rechin of Amissville, Virginia, a regular contributor to Wildfowl Carving Magazine. At his tables in the Academy Art Museum in downtown Easton, Jeff showcased an amazing diversity of carvings, and not just the birds for which he had become known. He also had a stunning miniature of a game fish and a couple of animal skulls, all part of a strategy to "break out of the box," he said. "There are still so many things that I get excited to carve," he told the festival. "I bird a lot and that can bring a spark. Often when I travel to a new place, I'll see something I have never carved and that will inspire me to carve a new bird." Or even a fish.

The other carvers in the art museum's rooms were displaying an amazing array of carvings—almost all of them birds. Al Jordan, another contributor to Wildfowl Carving Magazine, brought his stunningly realistic hawks and owls. Doug Mason and Glenn McMurdo had intricately carved and painted waterfowl. Mark Madden specializes in owls. Other carvers brought songbirds, shorebirds, and eagles. Tom Horn has made a name for himself with his beautiful tropical birds, which shimmer with iridescence from his painting.

Tom Baldwin's table was crammed with all sorts of birds. One of them was the least sandpiper he carved for his brand-new book, Three Bird Carving Projects. Published by Wildfowl Carving Magazine, the book is the latest in the magazine's workbench project series. It was Tom's first book and he had not even seen a copy until magazine editor Tom Huntington arrived with copies hot off the presses.

Each year the festival takes over the town of Easton, not just the art museum. The high school becomes a showcase for decoys—both antique and contemporary. The dealer tables in the cafeteria are jammed with hundreds of wooden ducks and geese while the gymnasium included exhibits about duck hunting from years past—and plenty of antiques, including items from the Ward Museum in Salisbury, Maryland. There are more carvers at the middle school, including Ward Museum Living Legend Bill Veasey and decoy maker Charles Jobes, who demonstrated his carving at his booth.

For this one weekend in November, Easton has one of the finest collection of waterfowl carvers anywhere.

What follows is a selection of videos and images from the show.

Videos:
Master Carver Jeff Rechin talks about a few of his carvings.
As Mark Madden's sign says, he is obsessed with owls.
The Ward Museum provided a collection of antique decoys.
Tom Baldwin talks about his new book, Three Bird Carving Projects.
 
Images:
Tom Baldwin proudly displays a copy of his new book, Three Bird Carving Projects.

This least sandpiper is one of the birds Tom Baldwin carved for his book.

Jack Cox carved this beautiful redhead.

A band played outside the carver's hall on a beautiful afternoon in Easton, Maryland.

North Carolina's Ivie Elliott carved this beautiful shorebird.

Richard Finch is a carver from Texas who creates beautiful owls, among other things.

Tom Horn is known for his tropical birds, like this hummingbird.

At the middle school, decoy maker Charles Jobes shows how it's done.

Al Jordan can carve anything but is know for owls and raptors most of all. He is also an experienced falconer.

Ontario's Doug Mason carved this exquisite gadwall.

This shoveler pair is the work of Glenn A. McMurdo.

Master Carver Jeff Rechin carved this dynamic Merlin, which he titled Pursuit.

David Robbins carved this stilt.

Rich Smoker always brings a wide variety of work to Easton. This is a brant.

Ward Museum Living Legend Bill Veasey had a large display of carvings in the middle school.

The Ward Brothers of Crisfield, Maryland, are considered masters of decoy art. The Ward Museum is named after them.
YOUR RECENTLY VIEWED ARTICLES
Free tutorials, expert tips, exclusive partner offers, and more straight to your inbox!