Top Carvers Attend 47th Annual Easton Waterfowl Festival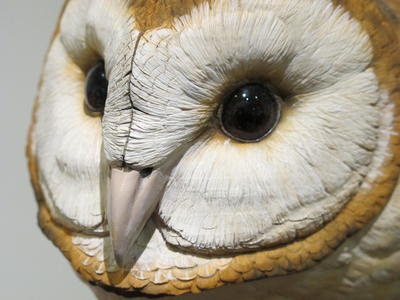 Each November the town of Easton, on Maryland's Eastern Shore, celebrates web-footed birds and their environs with its Waterfowl Festival. And each year some of the world's best wildfowl carvers arrive with an astonishing variety of work that celebrates winged creatures. The Academy Art Museum becomes Carver's Hall for the festival, with tables full of ducks, geese, raptors, songbirds, and owls. The high school is the place to find antique decoys as well as contemporary carvings that just look old. The high school gymnasium also includes exhibits about the history of decoys and hunting. The elementary school hosts more carvers, plus vendors of all sorts. The festival is not a carving competition—these carvers are here with work to sell, so it provides a great opportunity to go home with an exquisite carving or two.

The festival chooses a Master Carver every year. In 2017 it selected Richard Jones, the first time an interpretive carver has received the honor. Jones's birds tend to be bright and shiny, their polished wood looking almost like metal. His sculptures that seem to be as much about what isn't there as what is. "My work is a modern interpretation of birds in negative space," Jones told the festival. "I use only the basics, such as color and unique shapes, to define the birds. I look to carve birds that have a lot of flow to them—your herons, owls and hawks. I want to reflect a negative space concept with nature and birds." Jones is a regular winner at the Ward World Competition in Ocean City, Maryland, and his work has appeared in Wildfowl Carving Magazine's annual Competition publication.

Many of the carvers at Easton will be familiar to readers of the magazine and Competition. Al Jordan brought his usual breathtaking collection of owls and raptors; Gerald Painter had a table full of draw-dropping miniatures, Jeff Rechin had a couple of pieces that he had demonstrated in the magazine, and Tom Baldwin had a little bit of everything. Other magazine contributors included Glenn McMurdo, Doug Mason, and Rich Smoker. Brad Snodgrass brought the ringed teal that appears in the Fall 2017 and Winter 2018 issues of the magazine.

A new exhibitor at the festival this year was Pete Lupo. He carves birds (and butterflies), but visitors were especially entranced by the habitat for his carvings, which were exquisitely detailed items like boots or beer bottles—all carved from wood.

Outside of the Ward competition, the Easton Waterfowl Festival is probably the finest collection of wildfowl talent assembled anywhere.

What follows is a selection of videos with expert carvers from the show. 
Table of Contents
Exclusive Interviews with Carving Experts
YOUR RECENTLY VIEWED ARTICLES
Free tutorials, expert tips, exclusive partner offers, and more straight to your inbox!