Black-headed Grosbeak
Cross a cardinal with an oriole, and you might get something like this bird.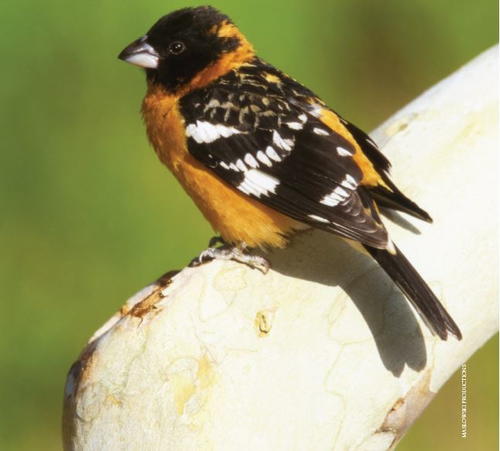 Photography by Maslowski Productions
The black-headed grosbeak (Pheucticus melanocephalus) is a stocky bird that measures between six to eight inches in length. It has a large black head and bill, a beautiful cinnamon-colored body, and black wings, each with a white wing patch and white wing bar. This grosbeak is similar in structure to the rose-breasted grosbeak of the East. It is a bird of the forest that nests in deciduous woods and shrubbery. Grosbeaks belong to the cardinalid family, so they count some buntings and the northern cardinal as relatives. 

After having properly sealed the carving with a fifty-fifty mix of lacquer and lacquer thinner and allowed it to dry, I applied a couple applications of white gesso. Once that had dried, I outlined the pattern on the head, belly, wings, and under-tail feathers with a water-based pencil.

This article is from the Summer 2010 issue. For more information on our issues, check out our issues page.
YOUR RECENTLY VIEWED ARTICLES
Free tutorials, expert tips, exclusive partner offers, and more straight to your inbox!