Bobolink
It's black and white with a bit of yellow, too.
By: Jerry Poindexter

Updated April 03, 2017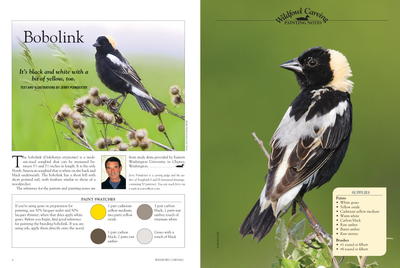 Jerry Poindexter is a carving judge and the author of Songbirds I and II (measured drawings, containing 50 patterns). You can reach Jerry viae-mail at icarve@cet.com.
 
The bobolink (Dolichonyx oryzivorus) is a medium-sized songbird that can be measured between 5½  and 7½ inches in length. It is the only North American songbird that is white on the back and black underneath. The bobolink has a short bill with short pointed tail, with feathers similar to those of a woodpecker.

The reference for the pattern and painting notes are from study skins provided by Eastern Washington University in Cheney, Washington.

This article is from the Spring 2017 issue. For more information on our issues, check out our issues page.
Tags / Related Topics
YOUR RECENTLY VIEWED ARTICLES