A Ringed Teal Drake Part Two: Painting
Time to paint outside of the pond.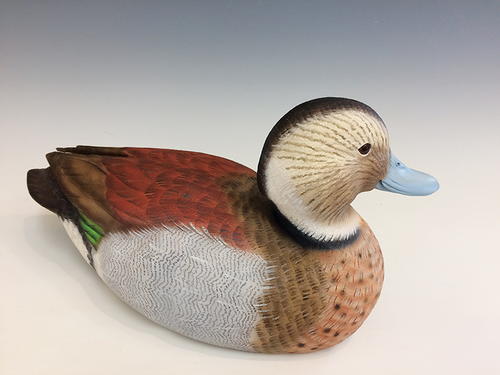 In the previous issue, I explained how I carved a ringed teal, a bird that I have never actually seen in the wild. Now I am faced with the prospect of painting the bird, which presents its own set of challenges. Painting used to be the part of the process I dreaded the most. The possibility of messing up a decent carving with a bad paint job used to drive me to the brink of carving shop paralysis. Often, I'd let a fully carved piece sit naked on the shelf in my shop, sometimes for months, while I worked on another carving, only to have it meet the same fate.

Part of what makes our art form so fascinating and so challenging at the same time is that we must master so many skills to produce a quality piece. First, we must capture the essence of the species in wood, then somehow make a very hard substance look like soft feathers, through a variety of texturing techniques and, ultimately, painting. Painting is the frosting on the cake. After years of experimentation with a variety of techniques, and countless hours of trial and error, I have reached the point where I look forward to the painting. I practically begin to salivate when I get to this point, because this is where the bird comes to life. The fruits of my labor are just around the corner.

As always, I will rely heavily on my reference material, especially my study skin and images found on the computer.

I pick a rainy day to start, since I am going to be here for a while. I live in Oregon, so this will be no problem! Next, I make sure the dogs are comfortable. As a matter of fact, I make sure everyone else in the house is comfortable. There is nothing worse than mixing my paints, getting in the zone, and then having a major interruption. Painting is a cerebral activity. I will need to focus.
YOUR RECENTLY VIEWED ARTICLES
Free tutorials, expert tips, exclusive partner offers, and more straight to your inbox!