The Rust of the Story
How to oxidize your carving with texture and paint
By:
Text and photography by Tom Baldwin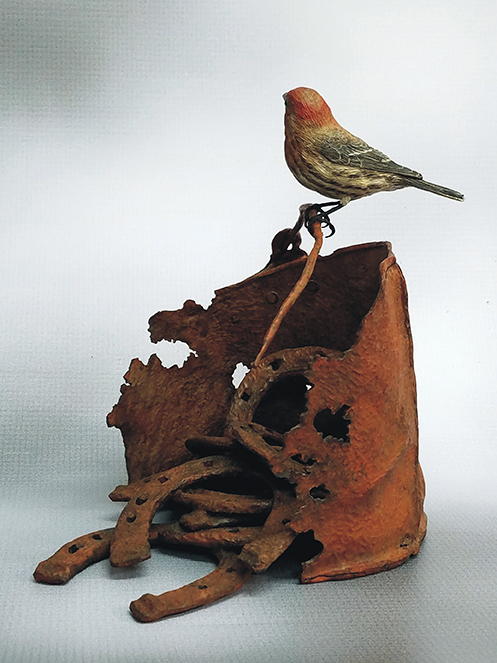 Texture is one of my favorite playgrounds with three-dimensional wood sculpture. The many textures of bird carving are fun to manipulate. Habitat provides the artist with great opportunities for even more textures. One of my favorites is rust. One year I received a critique on a sculpture I had done of a red-shouldered hawk on an old field mower rake, and the judge told me, "If this was all about rust, you would win hands down."

In an earlier article ("Altered Landscapes," Summer 2018) I mentioned how birds make functional use out of manmade, rusty junk for their daily activities. I enjoy the dynamic between the soft organized structure of the birds' feathers and the rough and unpredictable surface that rust presents. An additional attraction is that the colors in rust can complement just about anything.

I kept this in mind when composing The Grief of Gaia, the carving I did for the 2017 Ward World Wildfowl Championship. This interpretive piece was literally all about rust and it won a second best in world award. Although I use rusty implements in my decorative sculptures fairly often, I decided to focus on this piece for the article because it provides a full smorgasbord of rust types. It has pitted rust, decaying rust, surface rust, and welder's rust. You can use any of these rust types on other habitat subjects, such as old tools and metal posts. As an artist born and raised in central Ohio in the heart of the Rust Belt, one thing I know about is rust!
YOUR RECENTLY VIEWED ARTICLES
Free tutorials, expert tips, exclusive partner offers, and more straight to your inbox!