By the Book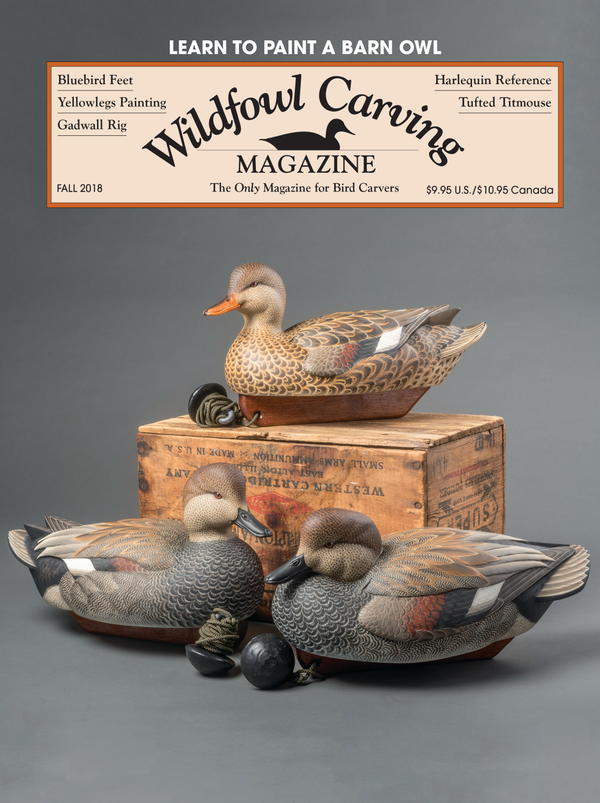 I first met Tom Baldwin in 2011 at the Wings 'n' Water show in Stone Harbor, New Jersey. As I recall, Tom had a magnificent red-tailed hawk in competition that year. (A look at Competition 2011 tells me my memory is correct—in fact, Tom won first in decorative life-size wildfowl with the hawk at the show, and we profiled him in Competition as part of our coverage of the ODCCA show.)

Tom's work impressed me so much I asked him to start writing articles for the magazine. He's contributed some fine demonstrations since then. In this issue, we are pleased to include an excerpt from his first book, our latest workbench project. It's called Three Bird Carving Projects: Power Carving Instruction for the Beginner. An astute reader might deduce that the book includes three carving projects, and that would be correct. Tom includes detailed carving and painting instructions for an Eastern bluebird, Northern pygmy owl, and least sandpiper. The excerpt in this issue is about making bluebird feet.

The book will be available to our book club members this fall (and to the general public a little bit later—all the more reason to join the book club). It originated from conversations Tom and I had at various carving shows. He told me about classes he was teaching that focused on beginners and he was very excited about watching new carvers turn into dedicated enthusiasts.

As the subtitle indicates, the book is geared toward beginners, but we think it will appeal to carvers at all levels. For one thing, Tom has provided a total of 14 different patterns with the book, and they are beautiful—artwork in their own right. You can see for yourself later this fall.

I would like to use this space to announce the winners of our first online carving competition, held this spring. We were very pleased with the results, having received 36 entries at two levels of competition, beginner and advanced. The winners at the advanced level were Ronnie Zint (barn owl), Tom Christie (eider), and Don Alemany (saw-whet owl). Winners at the beginner level were Matthew Gouette (pintail), Steven Heintz (wood duck), and Robin Warburton (barn owl). Congratulations to them all, and many thanks to everyone who competed. You will be able to see the winning carvings in Competition 2018 and we are preparing a special e-book with all the entries. Stay tuned for details about next year's competition!

This article appeared in Wildfowl Carving Magazine's Fall 2018 issue.
YOUR RECENTLY VIEWED ARTICLES
Free tutorials, expert tips, exclusive partner offers, and more straight to your inbox!