The Future?
Editor's Note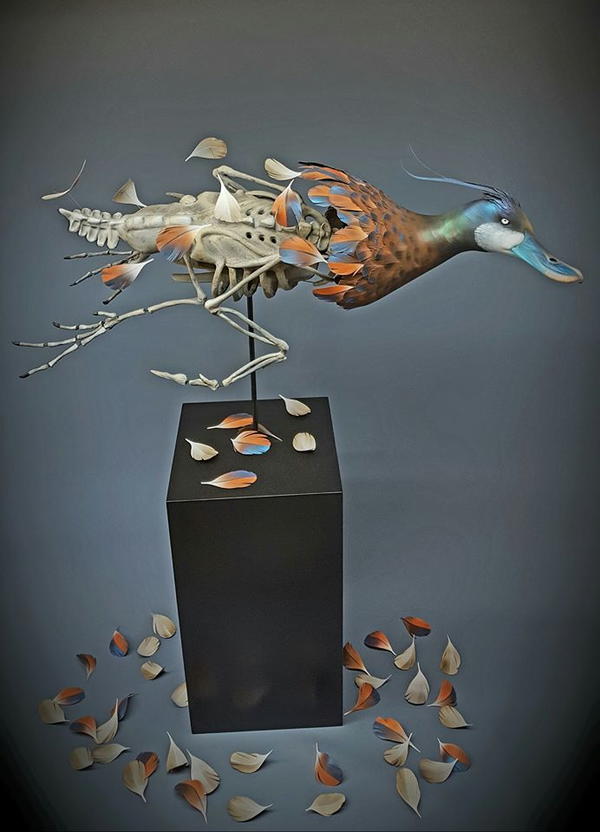 Daniel Montano does great work. Last issue we ran his feature about the interpretive ruddy duck he did for the 2016 Ward World Championship. This issue he does another ruddy, but a realistic one this time. It takes a rare artist to render the same species in such completely different ways.

Daniel is always trying new things. At this year's Ward show, held last April in Ocean City, Maryland, he entered another interpretive piece, this one featuring an imaginative, prehistoric-looking ruddy that appeared to be falling apart in mid-flight. He called it Flying into Extinction and it came with a message, one that Montano printed out and included with the piece. It addressed how the number of wildfowl carvers has been declining over the years. Fewer people are participating in the art form these days. Some shows have shut down. "Whatever the reason may be, something must be done," Montano wrote. "Our children, grandchildren and youth in general must be given the opportunity, influence, and encouragement to keep our art form alive."

That's an important message indeed, and I hope every carver out there will take it to heart. We all need to do what we can to encourage new people to try wildfowl carving. These newbies can be young or old—in school or in retirement. They can take it up as a hobby or a way of life. The important thing is to get new people to enter the field.

I don't think we can quibble about the quality of the carvings being done these days. The art form has truly blossomed over the decades. But the quantity of carvings has certainly declined. Anyone who has attended shows over the past years can see that entries are down. While we may never again see the numbers from the glory days of the 1980s, it would be nice to see the number of carvings at shows start to increase.

Do what you can to encourage new carvers. When people admire your work, tell them, "You could do this. I can help get you started." Be a mentor, be a teacher. Above all, be an inspiration. Getting new people started is the hardest part. As many of you know, once you begin carving it can be hard to stop.

On the cover: Flying into Extinction by Daniel Montano. Photo by Daniel Montano.
YOUR RECENTLY VIEWED ARTICLES
Free tutorials, expert tips, exclusive partner offers, and more straight to your inbox!