Editor's Note: The Next Best Thing?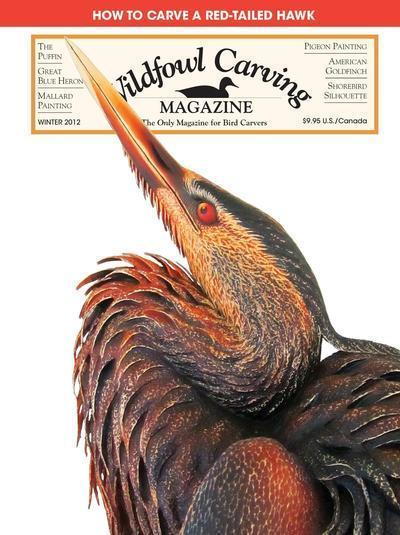 On the cover: Ashley Gray provided this photo of Hannah's Setting Sun, the People's Choice winner at the 2011 Ward World Championship.

I ran into Del Herbert at the Easton Waterfowl Festival in Maryland last November. Del had brought along the shorebird silhouette he carved and painted for the Beginner's Notebook entry that begins on page 12 in this issue. I had emailed Del an electronic version of the article so he could look it over, and he had printed out the pages and brought them to the show. Del told me that one man liked them so much he made repeated offers to buy them. Not the bird—the printouts. The bird itself was unavailable since Del had offered it for a raffle, so I guess the printouts were the next best thing. It just shows you how much people love wildfowl carvings, especially when they're done by someone as talented as Del Herbert.

Those who love the birds we feature in the magazine must feel like they are in Nirvana when they visit the Easton festival. Carvings have been one of the show's centerpieces since its beginnings, and top carvers arrive each year to put their work on display (and up for sale). The festival always features a Master Carver as the centerpiece of the centerpiece. This year it was Jack Cox of North Carolina, a familiar presence at carving shows. He brought along a sampling of his work plus a spectacular wood duck pair that served as his "Masterpiece Carving."

Things were a little different at Easton this year. Up until now, carvers had been split between three venues, with some in the armory building in the center of town, others at the elementary school on the outskirts, and decoys—both contemporary and antiques—at the high school. The decoys remained in the high school, but the festival put the other carvers together in the Academy Art Museum. They filled up three large galleries (plus the hallway), and it was nice to see everyone all together. One thing didn't change, though, and that was the long lines spilling out from the venue and down the sidewalk as people waited patiently to see how today's top carvers had been keeping busy.

And if they couldn't buy the carvings, maybe color printouts would serve as substitutes. After all, they make paper from wood, don't they?

This article is from the Winter 2012 issue. For more information on our issues, check out our issues page.
YOUR RECENTLY VIEWED ARTICLES
Free tutorials, expert tips, exclusive partner offers, and more straight to your inbox!