Bobincheck's Birds
A retired shop teacher turns to bird carving.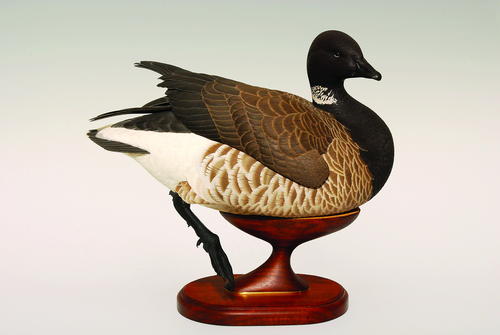 Photography by Bill Einsig
Rick Bobincheck's Atlantic brant won second in World Pairs at the 2005 Ward World Championship.

It's always interesting to learn how various carvers came to the art form of wildfowl carving. Some began as hunters with a desire to create their own working decoys. Others came from an art background as sculptors and some sought to capture in wood the beauty and variety of the birds they loved to study. For many carvers, it was an extension of their love for woodworking. Rick Bobincheck falls mostly in this last category.

For 35 years Rick taught what most of us know as shop courses at Laurel Highlands Middle School in Uniontown, Pennsylvania. "Teaching wood shop, metal shop, and mechanical drawing taught me to use my hands and gave me an understanding of the physical and construction properties of wood and metal," says Rick. An examination of his work also reveals that Rick learned to be a meticulous craftsman with an eye toward biologically accurate and skillfully constructed decorative birds.

Murph Kukurugya, a fellow teacher, and friend, introduced Rick to bird carving. Murph's father had carved songbirds, and Murph liked to carve waterfowl. Rick became intrigued with the idea of creating a beautiful bird from a simple block of wood. Before long Murph was helping Rick with his first bird, a canvasback drake that Rick gave to his wife, Denise, for Christmas in 1987. By then he was hooked. Rick says he became a devoted reader of WILDFOWL CARVING MAGAZINE and pored over the articles to learn various approaches and techniques. "There were few other carvers in my area of southwestern Pennsylvania, so I used the magazine to learn more about carving techniques and enjoyed seeing what other carvers were doing," he says. "Willie McDonald's article on band sawing is a classic." (That two-parter appeared in the Spring and Summer 1992 issues.) Rick also made regular trips to visit Gary Yoder, and they became close friends. Rick said he learned a great deal just by watching Gary and discussing techniques. (Read more about Gary and his work in the Fall 2009 issue.)

Read the rest of this article in Wildfowl Carving Magazine's Summer 2014 issue!
YOUR RECENTLY VIEWED ARTICLES
Free tutorials, expert tips, exclusive partner offers, and more straight to your inbox!