Showcase: A Big Man for Miniatures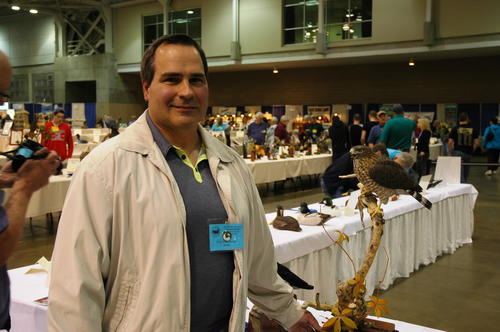 Gary Eigenberger has the stocky build of a man designed for a gravity field stronger than earth's. So it's no surprise to learn that this award-winning bird carver was once an award-winning weightlifter. In 1985 he was fifth in the nation in his weight class, and he was tapped as an Olympic alternate in 1988. Then he attended a carving show and found a copy of John Scheeler: Bird Carver. "I got the book and the flame was rekindled," says Eigenberger, who had started carving in the 1970s. "I was totally blown away by the work." For the first time, he started to think about making a living through carving.

It took a few years before he took the plunge, but the results have been encouraging, to say the least. At the annual Ward World Championship in Ocean City, Maryland, Eigenberger has four Best in World Decorative Miniatures wins, and he has maintained a streak by winning Masters Best in Decorative Miniatures every year since 2007. He continued the streak in 2016 when he won with a miniature tri-colored heron. The medal he received will end up in the curio case where he keeps all the others, but he's running out of room now that he has almost 50 Masters medallions alone, including 17 best of shows.

The medals are just a bonus, though. Gary Eigenberger is one of those people for whom carving is much more than a hobby, or even a way to make a living. Carving was a lifeline that helped save him from an unhappy childhood that he characterizes as one of mental and physical abuse. Speaking at the 2016 Ward World Championship, where he has 11 birds in competition, he talks about his early years. "We didn't have much," he says. "I started out with nothing. But I had one thing . . ." And here he gets choked up. That one thing, of course, was carving, and it helped him survive. For anyone in a similar situation, Eigenberger offers himself as an example that there is hope. "There's a chance, there's always a possibility if you believe in yourself," says Eigenberger, who also acknowledges the support his wife, Diane, has provided. "She has done so much for me."

A native of Sheboygan, Wisconsin, who now lives in Green Bay, the soft-spoken Eigenberger discovered an early affinity for art. "I think the art was born in me," he says. He liked working with clay in elementary school, and he had his first exhibit—clay sculptures in a little display case—at the Mead Public Library in Sheboygan when he was in third grade. He also developed a fascination with birds, which might have been sparked by some mounted specimens— flying ducks, a grouse, and a screech owl—that his grandparents had in the tavern they ran. "Feathers just intrigued me and attracted me so much, their shape, their color," he says. He remembers going to the local zoo and using a stick to retrieve feathers from the bird enclosures, and he once made an owl with a clay body and pheasant feathers. Eigenberger turned to wood in the 1970s after he encountered Bruce Burke's Game Bird Carving.

"The tools came later," he says, "but I had the passion." Living in Sheboygan with his grandparents, who had adopted him and his twin brother, he was 14 when he used a pocket knife to carve his first bird from a 2 x 4. "I sat in back on a concrete driveway without a blade of grass or a shrub around, nothing," he remembers. The barber in the shop in front of his grandparents' tavern was a decoy collector, and Eigenberger recalls running around to show him what he had made. "It was supposed to be a duck, but he said it looked like a woodcock," he says, chuckling at the memory. "I whittled the bill down so thin, and the body was shaped like a little dove, and pointed. But that was my first bird."

"I did whatever I could," he says, describing how he started carving by resting his wood on a stool and holding it in place with his knee as he worked. "No vice, no nothing. I had a hand saw and I would hold it there because I didn't have a vice. I wanted to carve that piece of wood so bad." His first birds were ducks, carved out of cedar, sanded smooth, but rubbed with oil instead of painted. After spotting photos of decoys in a hunting magazine, he started painting his work with Herters Decoy Paints he bought at the hardware store. Eigenberger felt he was struggling with his painting before he met carver Mark Schultz at a carving show. He knew the name from Stackpole's second How to Carve Wildfowl book, and he signed up for one of his classes. "I couldn't wait to get there," he recalls. The first thing he saw at Schultz's studio was a display case containing three blocks of mallard side-pocket feathers. One block was carved, one was carved and textured, and the third was carved, textured, and painted with oils. "I was hooked," Eigenberger says. "My gosh, that's what I want to strive for. You could see every single burn line in there, and yet it looked so soft. The paint looked like it was coming up out of the wood. It was incredible. That to me was my inspiration, all these years, to try and do that, do work like that."

Another thing Eigenberger learned from Shultz was the existence of the Ward World Championship. "I didn't even know there was a World show until 1990," he says. The next year he entered at the professional level with two life-size birds, an American kestrel and a white-throated sparrow. He won second and third in category with them. "I was very pleased with that because I thought it was a tremendous accomplishment," he says. A couple years later he entered his first miniature at the World level, a bluebird. "After the show was done I realized I had a ways to go yet for that class," he says. "I wasn't ready yet." But he kept trying.

He enjoys doing life-size birds, too, but he has become known for his miniatures. Ironically, at first he didn't feel right about doing the smaller-scale carvings. The real birds weren't that size. But once he started, he realized how much fun they were to do. They also offered a quick way to get a bird out of his system. "I can do them without investing the amount of time it would take to do a life-size," he says. "So it's a thrill to me. Miniatures class is a great class. I love it."

In 1997 he carved a miniature white egret and added a few plumes to the back and won third in World. "That started it for me with the plumes," he says. The plumes on his wading birds—herons and egrets—have become something of a trademark. He has been experimenting for years on how to make them better. He makes some from tupelo, others from bamboo, and some from super-thin brass wire. He also makes the eyes for his miniatures, by spinning acrylic on a little motor tool. It takes a lot of practice. "I brace myself with a nice thin brush and just touch that pupil while it's spinning around so you get a nice round pupil," he explains. He paints the surface and glues the lens on top of it.

To carve, Eigenberger uses a mix of hand and power tools. He prefers to use basswood and tupelo and likes to rough out his birds with a knife or draw knife. "I love chip carving. It's fun to shave wood with a knife. I love how it feels, how the wood shaves right off. Especially basswood. It just carves beautifully." After roughing out by hand, he switches to power tools for the detail work.

He thinks one thing that makes his birds stand out is personality. "People tell me interesting things about my work," he says. They say, 'Your birds seem to move, to have a sense of character about them, personality,' which is something I always try to incorporate into my pieces. I don't want to do just do a bird. I want to think about a bird in people terms, a certain expression, a look." Like people, Eigenberger feels that different kinds of birds have different looks, different expressions. "Owls, especially," he says. "You can really capitalize on personality. Raptors, wading birds, all have a personality. It's just built in. And it's always something I really strive hard to put into my pieces."

Schultz introduced Eigenberger to the joys of oils, but he still uses acrylics, especially for habitat, beaks, feet, around the eyes, and for some underlayering, where it helps him get more depth in the color. He does not use much air brush. "If I had to use an air brush on my birds I could not enter here," he says. "I'm terrible at it. Basically, terrible. I could not do it." He uses a brush for all the painting on his birds, even the blending. He might do a little air brushing on a habitat, but doesn't see any reason to change things now. "I think what I have going right now seems to be working." But he says he'd like to try experimenting with the air brush someday."
He likes to experiment. "I feel that sometimes I get a little tired of doing it the same way and I want to try something different, something fun, something that might be exciting." He also likes doing interpretive pieces, which give him the feeling of being unshackled. In 2002, he placed second in World Interpretive with a sora rail. At the 2016 World show he has entered an interpretive tawny frogmouth carved out of a piece of red oak. "It looks like a piece of wood compared to these other beauties here," he says, self-deprecatingly. "I could see the tawny frogmouth in there, so that's what I decided to go with."

When he drives home from this year's show, Eigenberger tells me, he will be thinking about next year, maybe considering what he could do differently. "You're going to see the best work here," he says, adding that he wouldn't be the carver he is without the influence of the Ward World Championship. "Competition pushes you to your limits." If he didn't compete, he feels he would have stagnated as a carver by thinking that he was good enough. "I never think that way," he adds. "I never, ever think I'm good enough. I always try to keep telling myself, I have to do better, I have to keep pushing, keep going. If there's an end, what's the point? You tell yourself you want to keep going. The bar gets raised higher every time." That's how you continue to grow, he says.

Shows also give him the opportunity for some personal feedback. As Eigenberger takes me around the Ronald E. Powell Convention Center in Ocean City to show me the pieces he has in competition, a man approaches him and tells Eigenberger he owns one of his herons. "I look at it every day in my office and I smile," the man says.

Carving his given Gary Eigenberger a reason to smile, too. He's happy that he can spend his days doing what he loves—and make a living at it. "It's just a thrill," he says. "I'm almost at a loss for words to describe the feeling of it." One thing he says he can't understand is when people look at the detail in one of his carvings and say he must have a lot more patience than they do. "Patience?" he asks. That makes carving sound like a chore, and for Gary Eigenberger carving is anything but that. It's not even just a way to make a living. It's his life. 

YOUR RECENTLY VIEWED ARTICLES
Free tutorials, expert tips, exclusive partner offers, and more straight to your inbox!