My Blue Period
You've never seen a ruddy duck like this before. Guaranteed.

Updated March 01, 2018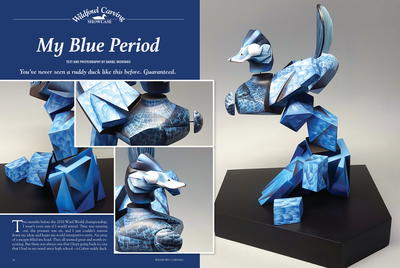 Daniel Montano started carving in 1987 when he was in National City Junior High School in San Diego County. He is known for his palm frond carvings and feather work. Since first picking up an airbrush back in high school in 1990, the airbrush has become his tool of choice. He paints with acrylics and uses tupelo.

Two months before the 2016 Ward World Championship, I wasn't even sure if I would attend. Time was running out, the pressure was on, and I just couldn't narrow down my ideas and begin my world interpretive entry. An array of concepts filled my head. They all seemed great and worth executing. But there was always one that I kept going back to, one that I had in my mind since high school—a Cubist ruddy duck.

I've followed the world interpretive category through the years, starting when the pieces were strictly wood and stain, natural slabs of wood and tree trunks turned into wonderful works of art. The contour lines of each piece grabbed my attention, and I always thought to myself, "If they could just add a little bit of color!" Because color is everything to me. As the years went by, artists began doing more with color. The pieces became more interpretive, more abstract, and more colorful. Ashley Gray and Jeff Krete did full-blown painted sculptures, so I figured it was time.
Color was a must for me, but I was very worried that my cubist interpretation would prove to be too much for everyone. A blue, Cubist ruddy duck chopped up into geometric shapes was an absurd idea, or so I thought. But the rules said the entries should provoke thought and wonder, and so I began. Love it or hate it, I was going to enter a piece that was appealing to the eyes but also provided a lot to think about. I was going to take this difficult piece that I had stored in my mind and finally transform it into a modern piece of wood sculpture.

My inspiration was, of course, Pablo Picasso (Spanish, 1881–1973), creator of Cubism, along with Georges Braque (French, 1882–1963). Both were both influenced by the three-dimensional works of Paul Cézanne, and that led to their creation of Analytic Cubism.

Cubism (1907–1914) was an early twentieth-century style and movement in art, especially painting, in which artists abandoned perspective with a single viewpoint and used simple geometric shapes, interlocking planes, and, later, collage. There are two types of cubism, Analytic and Synthetic. Analytic was an early stage of Cubism and was worked mostly in paint and monochromatic colors. Synthetic was a later style, with more color. It used simple shapes and a variety of materials, such as wood, plaster, and cardboard. Cubism was never meant to be realistic or lifelike, so my entry fit the style.

My original design was far more complex than the final piece. I wanted to do a decorative style Cubist ruddy, with all the feathers carved, burned, and raised on each side of every cube, and painted with the colors of its natural summer plumage. This would have taken me months to do, and I had a little more than two. I decided on a simpler design, but one that still offered a challenge. I made the body from a palm frond and the head and cubes from tupelo. I added no eyes and carved no feathers. I ended up painting the feathers and adding some I made from paper and painted with acrylics. I can't even count the shades of blue that I used. There was a lot of iridescent blue, which wasn't even visible due to the lighting inside the convention center where the Ward World Championship takes place.

This is the most difficult piece that I have ever created. I spent many hours trying to balance the whole piece. I wanted a good view from every angle. It took days of sanding and shaping to get tight fits on the connecting cubes. Each cube was doweled together. Painting some of the sides was a very frustrating task. There were lots of hard edges, lots of masking, lots of airbrush overspray to clean up. It was never ending. I painted the base cubes at least three times because they were not matching the rest of the piece. I decided to paint in some three-dimensional effects with shading and highlights to make them look like as though they were carved. I repainted the head three times. It had to flow just right.

When I ordered my base from Terry at Blue Ribbon Bases, I told him I wanted bright blue. I wanted some thing unusual. But the blue didn't work—it took your eyes off the main focus, the ruddy. So I ordered another base, this one satin black with offset sides. With the black base, your eyes were drawn to the bird and not down below at the base. It made the bird really pop. A square base was unacceptable. Nothing in this bird was perfectly square, so I designed a base that would fit the entire piece. It's an abstract piece, so nothing is square, nothing is anatomically correct. It is very important to work on design and composition.

I chose blue for many reasons. It's my favorite color, but it also stands for calmness and creativity, and it's a tribute to Picasso's Blue Period, before Cubism. It was a time when he was trying out new things, expanding his talents, as I am today. There was one other thing. I asked myself, "What's the first thing the judges will see when they walk into the area full of natural colored sculptures?" That blue-looking thing, of course! This was all planned. It's all part of competing. I'm always looking for things that might give me an edge. One must always try something new. As I like to say, "Being different is every artist's advantage!" I encourage everyone to try to think beyond what has already been done. It might work, or it might not, but making an effort to change, to push yourself, is worth the risk. This is how you become more creative and a better artist/carver overall.

This was my first time attending the Ward World Championship, and the first time I had entered a piece in world interpretive. Overwhelmed by all the great entries, from novice to world class, I felt like Superman surrounded by Kryptonite and I didn't have a clue on how I would do. I had shown my entry to a few close friends beforehand, and the positive feedback they gave me was great. But deep down inside I knew anything could happen. I was going up against the best in the world and I felt full of regret—regret that maybe I should have spent more time on my painting, or that I should have done this or that differently. My mind was filling up with doubt. I had butterflies in my stomach and my hands were sweaty. I guess it's all part of the world championship game that we all go through as competitors.

My journey to this point began back in 1987. A ruddy drake was my first attempt at decoy carving and it is still my favorite species to carve. I never really thought this art form would take me this far. I was very fortunate to have had a great teacher and friend, Arnie Erwin, during my junior high school years, but still. Growing up in a rough neighborhood and carving decoys—who would have thought? There really is no excuse to not follow your dreams and achieve your goals. Nothing is easy; you must always work hard, very hard. No one will do it for you, but if you really want something, you must chase it. Always dream big and never give up! The Ward World Championship award ceremony took place on Saturday night, April 22. I believe that most decoy carvers dream of winning a world championship, as I did. It had been one of my biggest goals and dreams for many years. I never felt that I had what it took to even come close. And then I heard my name announced as the 2016 World Interpretive champion. The experience was very special, something that can't be explained or put into words. It was a night of excitement and emotion to say the least. It came after many years of hard work and many years full of doubt and years being doubted. It was an accomplishment that required time, hard work, and dedication to this wonderful art form—wildfowl wood carving.
RUDY DUCK
For a closer look at each step, please click on the images to enlarge.
WILDFOWL CARVING SHOWCASE
I don't usually sketch out my projects. In this case I needed to see how each cube would look before starting this sculpture. I wanted to cover each side of every piece with feathers. It was difficult to get the never ending flow of feathers right. I hid the ending part of feathers behind each cube, where it wasn't noticeable. I hope the judges didn't catch that!

The head and body were taking shape at this stage. It's difficult to pursue a style that is way out of your comfort zone. Flattening instead of rounding, abstract versus realistic, a bit of deformity instead of correct anatomy. I knew the style fairly well but my mind went to another level, the mind of a Cubist. Everything I saw was in a shape of a cube, so from that point, everything just fit perfectly.

I used tupelo wood for my base cubes and sanded each side perfectly flat and fitted them tightly against each other. The angles and degrees had to be right or they wouldn't sit flat on the bottom. I wanted them sitting upright and flowing up toward the top, while maintaining the same Cubist concept as the bird. I looked at it from different angles, different views, arranging and rearranging.

To me, the transition from a realistic bill to a Cubist head was what gave this piece character. I carved the bill like a decorative decoy, adding wrinkles and a wide bill, characteristics of an adult ruddy. Layers of primer resulted in a very smooth surface, hiding all imperfections and scratches.

A close-up of the side view. I used regular white copy paper for my feather inserts, adding them one by one and gluing them into place. I burned in the lines just like I would for a wood feather. The realistic feathers, mixed in with flat painted feathers, gave it a great look.

I wanted my piece to have a little bit of realistic feathering. I didn't want it to be completely abstract, so I decided to paint the feathers as if I were painting a decorative or a smoothie decoy, but in blue colors. I used the same process throughout the entire bird, doing lots of stenciling and brush work.

Once the entire piece was completed, I decided to add my finishing touch, a "feather." But, it didn't fit the piece! It was too obvious and it drew the eye straight down to the base and away from the bird. So I added a cube instead. It fit just right, as if it were meant to be there. Now everything came together; it was all balanced. It is very important to keep a viewer's eye in motion and not on just one area, which can make your piece boring.

Here is a close-up of one of the cubes. I stenciled and airbrushed each feather, one by one. I added all the fine lines and detail with my 10/0 liner brush. I paint really wet and layer my colors, creating depth. Each layer has its own hue so the more you apply, the more rich and vibrant the color will be.
Tags / Related Topics
YOUR RECENTLY VIEWED ARTICLES