A Resplendent Quetzal
Symbiotic relationships, inspiration, and interpretation. All combine in a magnficent carving.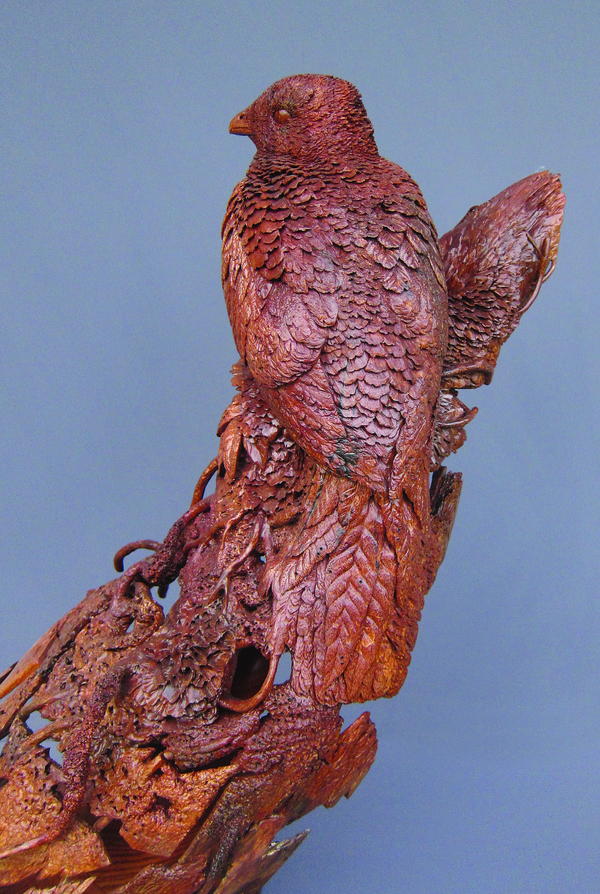 Photography by Keith Mueller
One of the great joys of creating art is transforming your inspirations, thoughts, and ideas into a visual presentation that expresses your vision. Just as the story unfolds on every page of a well-written book, every component of a sculpture should project the narrative— providing there is a correlation between the carved components and the story the artist is telling. I try to excite viewers first with an initial spark when they respond to the piece. But is that initial moment of raw emotion enough? Does this spark encourage the viewer to search deeper, to look beyond the surface to find the story I am telling?

Finding the concept behind a sculpture and determining how to tell its story are two things that make this art form so compelling to me.

The story behind my interpretive quetzal began in Costa Rica, on the second trip my wife, Jen, and I made to this beautiful country. Beny, a Costa Rican friend, was driving us to the remote Savegre Mountain Lodge, located on the Savegre River in the Savegre Valley. We were going to search for my absolute favorite bird species, the resplendent quetzal. On the way to the lodge we were traveling down a narrow dirt and gravel road through the forest to the valley. The view was breathtaking—magnificent virgin and secondary cloud forest surrounded us, with trees covered with festooning epiphytic plants and mosses. On our left, a steep downward slope led to the river torrent. To the right, the forest ascended almost vertically into the clouds.

We had just crossed a small wooden bridge when Beny stopped the vehicle and excitedly pointed through the windshield. "Quetzal!" he exclaimed. Jen and I jumped out of the van, and there it was. It was a female quetzal, silently perched on an old snag of an aguacatillo tree that protruded from the dense vegetation not more than thirty feet away. The bird was stunning. All I could say was "Wow!" This was the first female quetzal we had seen and, although the female is often described as having drab plumage, this bird was every bit as beautiful as the male. After a few minutes I composed myself and took a few images with the camera I had forgotten was hanging around my neck. The bird then flew off and disappeared down the steep slope heading to the river.

Read the rest of this article in Wildfowl Carving Magazine's Fall 2014 issue!
YOUR RECENTLY VIEWED ARTICLES
Free tutorials, expert tips, exclusive partner offers, and more straight to your inbox!