Carving Suppliers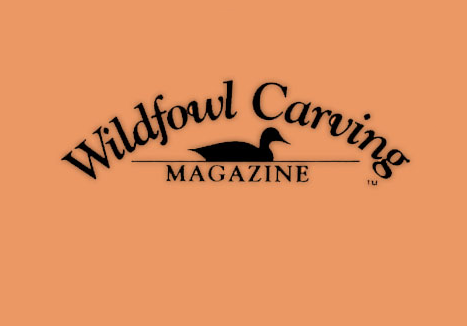 Bear Air Express
Airbrushes for less!

Best Wood Carving Tools
Reviews and information on the best wood carving tools for your job.

Blue Ribbon Bases
888-692-9257
Walnut and hardwood bases for your quality carving.

Cape Forge
Traditional hand-forged wood carving tools.

Chipping Away
A complete resource for beginning and experienced carvers. Foredom and Wecheer tools, patterns, books, eyes and feet, casts, brass rods, tubes, and foil for habitat.

Colwood
Quality woodburning tools and accessories.

Curt's Waterfowl Corner
800-523-8474
Complete line of art and carving supplies.

DeepwoodsVentures.com
"Own a KnifeThat Will Make Your Details Stand Out."

The Duck Blind
Decoy cork, carving, painting and airbrush supplies. Premium glass eyes. instructional videos, video and photo reference on live waterfowl.

Dura-Grit
Carbide wheels and bits for the power carver.

Dux' Dekes
Handcrafted decoys by J. W. Duxbury. Blanks for ducks, geese, loons, swans, and many more. High quality pine and basswood blanks and kits.

Flexcut Carving Tools
Innovative edge tools for the modern woodcarver.

Foredom
Supplier of quality tools for the power carver.

G. Schoepfer Inc.
Glass and plastic eyes for many applications. We know eyes!

Godin Art
Championship waterfowl patterns and videos on research, patterns, feather formation, grinding, burning, inserts, mixing and blending paint, vermiculation, detailing, plus much more.

Gregory D. Dorrance Company
Complete line of carving tools and supplies. Hand tools, power tools, paints, diamonds, rubies, Razertip. We have it all!

Heritage Art Studio
Heritage Arts Studio: woodcarving/painting classes and supplies for Portland, Oregon, and the surrounding metropolitan area.

Hot Tools, Inc.
781-639-1000
Woodburning detailer carves realistic feathers.

Jeff Whiting Carving References
Books and references on owls, loons with study casts and full carving/painting aids.

Jaymes Company
234 Cartland Way
Forest Hill, MD 21050
(888) 638-8998
Complete line of carving tools and artist supplies.
Over 2,500 items in stock.
"Serving Woodcarvers Since 1977"

Jennings Decoy Co.
Basswood cutouts, butternut cutouts, cork and cedar decoy kits with paint. Full line of carving and painting supplies.

Knotts Knives by "Cousins"
Since 1968, Knotts Knives has been the standard for the professional craftsperson and hobbyist.

Krausman's Wildlife Reference Photos and Woodcarving Studio

KV Woodcarving Supplies
Phone: 506-847-3052 Fax: 506-849-3052 E-mail: kvwcs@nbnet.nb.ca
Largest selection of carving supplies in eastern Canada.

Little Mountain Carving Supply
For all your carving needs! Detailers, Foredom, chisels, knives, gouges, study bills, books, glass eyes, cast metal feet, diamond cutters, carbide burrs, bases, patterns, paints…and much more!

MDI Woodcarvers Supply
Low prices and fast service on all your carving needs.

Quality Carving Supplies
Complete line of wood carving supplies.

Razertip
Pyrographic tools and portable dust collectors.

Ritter Carvers, Inc.
800-242-0682
Complete line of carving supplies and tools.

Smoky Mountain Woodcarvers Supply
Complete line of carving supplies, classes, and wood.

Sugar Pine Woodcarving Supplies
Wood, tools patterns, instruction—anything the wood carver needs.

Tohickon Eyes
The World's Finest Glass Eyes. Enough Said.

Traditional Woodworker
Complete line of Wecheer power tools and accessories, hanging brackets, hand pieces.

Turbo Carver
High-speed detailing tools and accessories for your compressor.

WoodCarvers Store & School
Books, hand tools, power tools, and a full line of supplies for the carver.

YOUR RECENTLY VIEWED ARTICLES
Free tutorials, expert tips, exclusive partner offers, and more straight to your inbox!