Pink Flamingos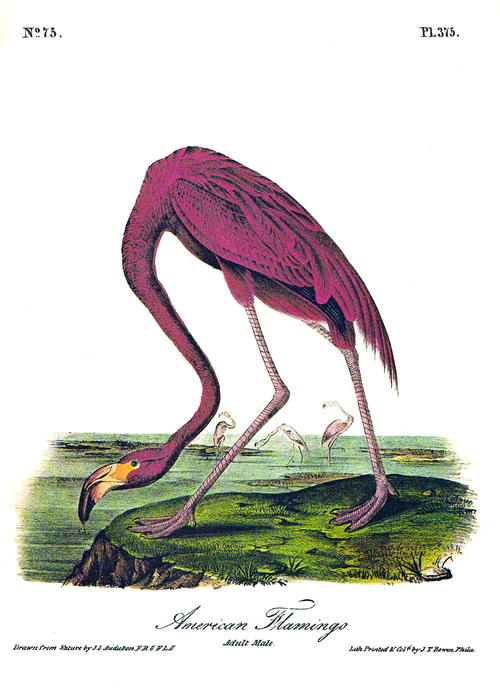 John James Audubon depicted the flamingo in his Birds of America. "Their walk is stately and slow, and their cautiousness extreme, so that it is very difficult to approach them, as their great height enables them to see and watch the movements of their various enemies at a distance," he noted.

Regular contributor Rick Burkman started watching birds at a young age 50 years ago. Many years later he began a professional writing career and has written for bird magazines, regional magazines, and newspapers. He currently serves on the planning team and communications committee for theWisconsin Breeding Bird Atlas II, and conducts regular field surveys for breeding birds.

Some birds are recognized by almost everyone around the world—owls, ostriches, and parrots come to mind. But one of the strangest appears as both artwork in ancient Egyptian pyramids and as a caricature of a croquet mallet in Lewis Carroll's Alice's Adventures in Wonderland. Modern images of flamingos thrive on billboards, hotels, casinos, restaurants, and water parks. And since its invention in 1957, the plastic incarnation of this peculiar bird, the iconic American (Caribbean) flamingo (Phoenicopterus ruber), populates suburban lawns across the country.

Flamingos look like a bunch of leftover parts stuck together by a drunken model maker. But those collections of mismatched pieces have a lineage that stretches back 50 million years or more, making them highly evolved birds that are exquisitely adapted to their muddy environment.

But they are still odd looking. Skinny pink legs with ankle joints where we think knees should be hold up an ovoid body that has a sinuous neck, large head, and malapportioned bill stuck to the front. A stubby tail is jammed on the other end like an afterthought.

Flamingos are as easy to identify in flight as they are on the ground. Dark black primary feathers are often hidden when the birds are resting or feeding, but the create a strong contrast with the orange-red bodies in flight. The wings are short and look centrally placed between the long, extended neck with its surreal bill, and the trailing, stilt-like legs. Frank Chapman, a well-known ornithologist from the early twentieth century, once wrote, "With legs and neck fully outstretched, and the comparatively small wings set halfway between bill and toes, they look as if they might fly backward or forward with equal ease." Flamingos are a rare combination of comical and magical.
YOUR RECENTLY VIEWED ARTICLES
Free tutorials, expert tips, exclusive partner offers, and more straight to your inbox!