Eastern Bluebird, Part One
Here's how to carve this much-loved ambassador of happiness.
By: Jeff Rechin

Updated February 13, 2017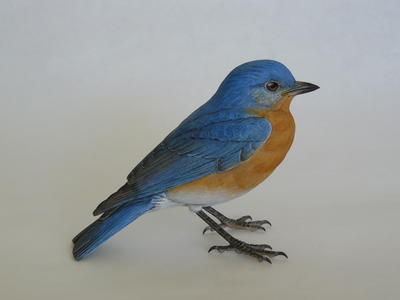 Photography by Jeff Rechin
Jeff Rechin is recognized as an elite sculptor whose artistry and technique have garnered him two Best in World titles at the prestigious Ward World Championship. You can see more of Jeff's work at http://jeffrechin.blogspot.com. 

In this article I will be sculpting an Eastern bluebird. No matter how many times I observe them, I never tire of these beautiful small birds. During this project, I will carve the bird as a whole, rather than starting and finishing one area at a time. I find that, as I sculpt, I tend to move around the bird from one area to another instead of carving each to completion. If I carve each area to completion, one by one, I have to match the rest of the piece to the finished sections, and that can be difficult.

That being said, in this article you will see how I progress, integrally pulling the bird together as a whole until I have a completed bluebird. I intend this to be a free standing bird, without a base.

For part two of this article, click here. 

Read the rest of this article in Wildfowl Carving Magazine's Summer 2015 issue.
Tags / Related Topics
YOUR RECENTLY VIEWED ARTICLES