Basic Black
This black duck decoy is easy to carve--and it works.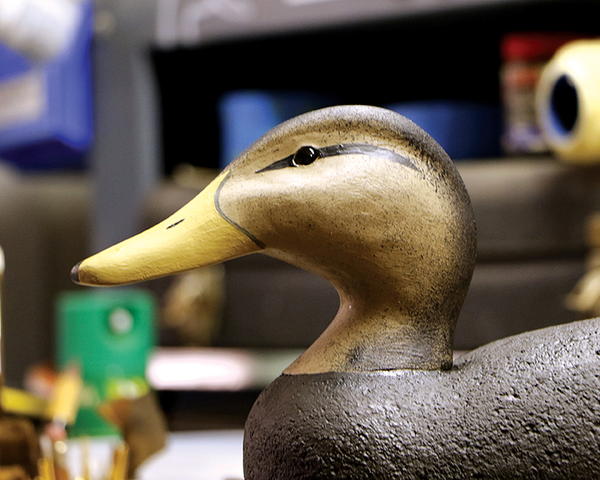 It was mid-January on a small pothole just off of Coinjock Bay in Currituck, North Carolina. In the early-morning darkness I discovered that the decoy bag that was supposed to be in my stick blind wasn't there. But I found a lone, nearly rotten cork black duck decoy in some leaves and debris under the bench seat. It had no weights, but I rummaged through my shell box and found a piece of cord about 3 feet long. I waded out into the pond and shoved a long stick into the mud, and then tied the decoy to it. As a sliver of orange appeared in the eastern sky, I heard wings and then a splash. The old decoy was no longer alone. I was amazed how this one cork bird pulled in a quick limit of teal, mallards, and black ducks all by itself without any calling.

I'm sure many duck hunters have heard similar stories about using a single block to pull in decoy-shy birds late in the season. I have used this technique many times since with great success, and I still use it often when hunting small ponds and potholes. No wonder the old salts handed this trick down to new duck hunters.

A black duck is one of my go-to birds for gifts or donations because it is fairly easy to carve and the paint can be as simple as you want. It's also a great first bird for a new carver. I drafted one of my students, Jonathan Maulden, to carve this decoy out of high-density cork. Jonathan began hunting in 2008 and started carving with me last winter. He is a very quick learner and is currently working to convert his hunting rig into all wood-and-cork blocks.

We used high-density cork for this demonstration because it is easy to work with just a few basic hand tools. It is also dense enough so you don't need a bottom or tail board, provided you leave some beef in the tail. It is also easy to paint with just a handful of colors. Although this demonstration bird uses a cork body, you can substitute any lightweight wood of your preference. The pattern pulls its influence from the New Jersey shore with a touch of Ward brothers' style in the head, giving the block some old-school glamour.
YOUR RECENTLY VIEWED ARTICLES
Free tutorials, expert tips, exclusive partner offers, and more straight to your inbox!