The Maine Way
How to make a classic Monhegan Island-style eider decoy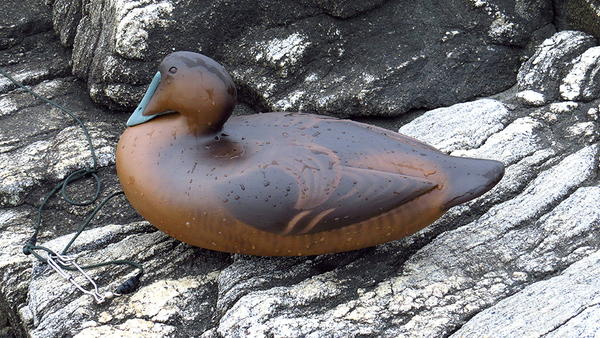 Traditional Maine decoys were practical in design and built for a hard life on the sea. Most of the decoy makers in Maine were lobstermen, boatbuilders, and maritime craftsman, and they designed their decoys simply but made them highly functional. They were tools of the trade, just like lobster traps, clam baskets, and rowing dories. Maine decoy makers carved their decoys from solid white pine or northern white cedar and usually made them wide and oversized so they remained visible on the waves.

Painting was simple, with basic colors of black, white, and brown, utilizing deck or boat paint with no blending or fancy brushwork. The eider drakes were black and white with the green cheek colors often omitted. Hen eiders were solid brown with two small white slashes signifying the white borders of the secondaries. When the decoys had tails, they were thick and strong. Anatomical features were kept to a minimum or left out. The bills on most Maine decoys had very little if any detailing. Eyes, if indicated at all, were either carved or painted. Glass eyes on Maine decoys are rare. Only a few Maine decoy makers incorporated the suggestion of carved wings.

One defining characteristic of Maine decoys is the classic inletted head, a mortise-and-tenon head-to-body attachment. The "mortise" is the large notch chiseled out from the decoy's top chest. This notch accepts the "tenon," which is the base section of the head and neck component. When put together well, the head attachment is strong and secure.

Augustus Aaron "Gus" Wilson (1864–1950) was a lighthouse keeper, boatbuilder, waterfowler, fisherman, and Maine's most notable decoy maker. He hunted the ledges and islets of Monhegan Island, which is about ten miles offshore. Wilson became known for incorporating many animated and lifelike poses into his decoys, which included preening, sleeping, open wings, open bills holding mussels or fish, resting poses, and many others. Wilson was not only gifted with technical boat-building and decoy-carving skills, he also had a very keen artistic eye. He could look beyond a decoy's form and function and fuse his artistic creativity and technical skills. The results were some of the most artistically rendered decoy sculptures known today. They are truly floating art sculptures.

The decoys Wilson made for hunting off Monhegan Island are considered his best and most recognizable. The Monhegan design features a very fluid profile with a high lifted chest, unusual neck preening pose, and uplifted tail. By pulling the head back high onto the neck, Wilson had the bill join the neck surface, which protected and strengthened the bill.
In this two-part demonstration, I will carve and paint a traditional Gus Wilson Monhegan-style hen eider decoy from northern white cedar using classic methods. Features include the mortise-and-tenon head attachment, carved eyes, and carved wings. The body size is 4" high x 8" wide x 16 1⁄2" long.

I will not paint the decoy with the solid deck brown you commonly see on the originals. Instead, I will use a little artistic interpretation and highlight the plumage with my interpretation of the actual plumage of a hen eider. The features I will incorporate are feather barring, curved tertials, and white wing bars. I will not reproduce them perfectly, but will just indicate them. A simply sculpted decoy should have a similarly simple paint pattern.
YOUR RECENTLY VIEWED ARTICLES
Free tutorials, expert tips, exclusive partner offers, and more straight to your inbox!