The Value of Value
When you're painting, color isn't the only thing that matters.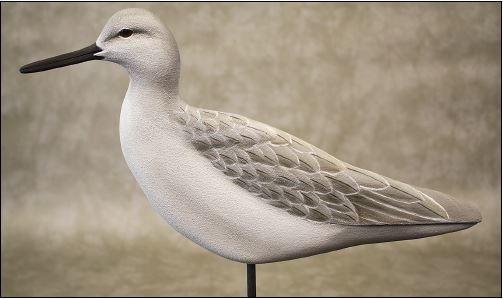 Photography by Del Herbert
I painted the feather shafts with mix number 1. Then, I dry brushed the lower halves of each feather with a slightly darker value than the base hue. The upper halves get a slightly lighter value.

There are many aspects to wildfowl carving, including sculpting and painting. All require specific knowledge and skills. In my quest to improve my artwork, I will frequently isolate a single parameter and try to improve it. In this article, I'll discuss my efforts to improve painting skills by working with one parameter: value. When discussing color theory, we talk in terms of hue, value, and intensity. Most references use a gray scale or neutral value scale to explain value. White is the highest value (10) and black is the lowest (0). With our artwork, objects that are in a direct light source will have a higher value than those that are not. Things that are closer to our eye have a higher value, and those further away have a lower value. In this article, I'll attempt to give dimension and life to a painting using only these principles.

This article is from the Winter 2012 issue. For more information on our issues, check out our issues page.
YOUR RECENTLY VIEWED ARTICLES
Free tutorials, expert tips, exclusive partner offers, and more straight to your inbox!