Stool Pigeons, Part One
Here's how you can carve out the art of deception.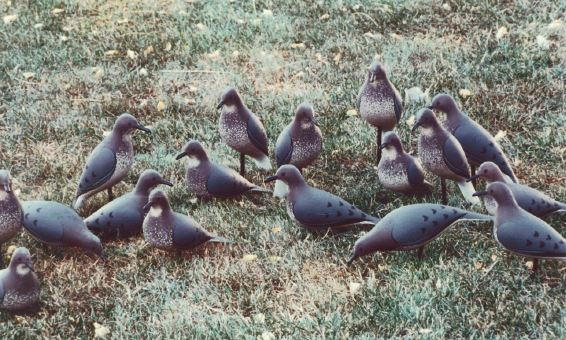 A small rig of dove decoys set out on my front lawn fooled passing motorists and pedestrians. It was fun to watch.

Decoys and decoy rigs are also known as stool, and a duck coming in to decoys is said to be stooling. Dove decoys, sometimes known as stool pigeons, have been around for a long time. I believe the term came from German dove keepers several hundred years ago. When released away from home, homing pigeons reliably return to their dovecotes provided one member of their flock remains tethered to a perch aside the dovecote. It was the Stuhlen-Taube, or the "stool pigeon," that assured the return of the rest of the flock. "Stool pigeon" eventually became a term describing one who would betray others of his or her own kind. As far as I know, it first appeared in detective stories early in the twentieth century.

One can carve dove decoys representing a variety of activities. I've chosen three attitudes which seem, to me, typical of perching, standing, and feeding birds. Topographical names used in this demonstration are in accordance with Elliot Coues' book, Key to North American Birds.

This article is from the Spring 2012 issue. For more information on our issues, check out our issues page.
YOUR RECENTLY VIEWED ARTICLES
Free tutorials, expert tips, exclusive partner offers, and more straight to your inbox!