Heard It Through the Grapevine
This habitat is suitable for many bird species.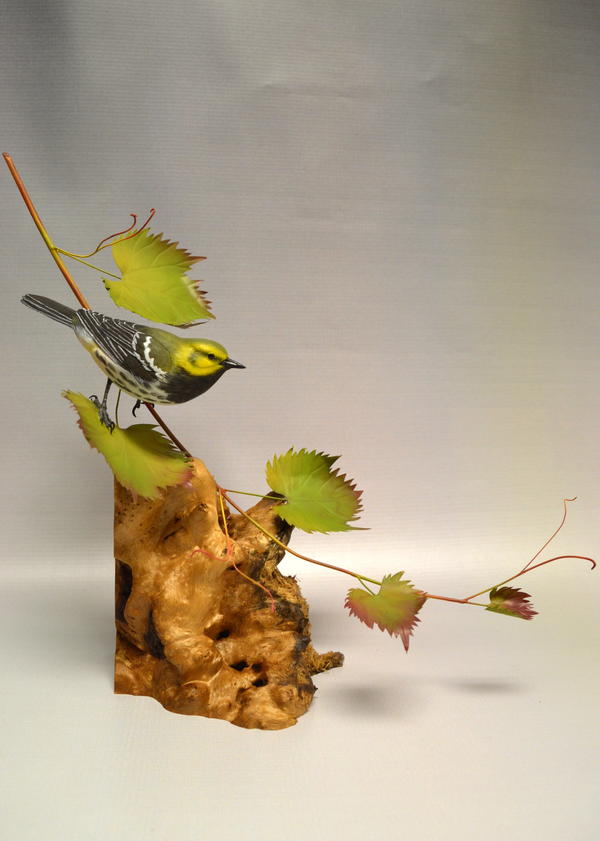 Black-throated green warbler with grapevine
Al Jordan lives in Rochester, New York, where he is a master falconer. He was the North American shorebird champion in 2008 and the IWCA Shorebird Champion in 2010. Al is also an instructor and judge and the author of WILDFOWL CARVING MAGAZINE'S Half-Size Osprey Workbench Project. Learn about Al's classes and one-on-one instruction at (585) 227-2235, www.ajordanbirds.com, or by email at ajordanbirds@yahoo.com.

I try to teach my students that it is best to design and compose a piece before starting it. Too many people carve a bird first, ask themselves later how they should mount it, and end up putting the bird on a dead stick or a broken branch and declaring it done. I believe this way of proceeding is a bit backwards and seldom ends in a well-composed, artistic sculpture.
 
All this mumbo jumbo aside, I have found that grapevines, both wild and cultivated, provide a very artistic presentation for a carving. The grapevine is adaptable to many situations. The vines can grow up or down, and they can have seasonal variations in color, ranging from bright yellow for spring new growth, to rusty red and pale brown in fall. In additions, the vines themselves can have no fruit at all, new-growth fruit, or ripe berries. All these variances can lead to a beautiful piece of art as you consider colors, shapes, and lines.
 
I am not going to teach design and composition in this article, but I will explain my process for creating a beautiful, realistic grapevine. Once you learn how to create one, you will see how it gives you freedom to make all sorts of design and compositional choices of your own.

This article is from the Fall 2015 issue of Wildfowl Carving Magazine. 
Materials List
Brass tubing (1/8", 3/32", and 1/16") for telescoping branch
003 brass shimstock for leaves
1.5 mm brass rod for leaf steams
5 mm brass rod for tendrils
Flux
Solder and solder iron
Propane solder torch
Scissors
Round needle-nose pliers
Third hand
Ball-tip stylus
Sanding mandrel with 320-grit paper
Gesswein micro motor with a mini carbide cutter
Step-by-Step
For all photos, click on images to enlarge them. 
Construction
The first thing I do when starting a project like this is to gather some reference. In this case, I just walked out the back door and found a piece of wild grapevine similar to what I wanted to make. I then took a few photos of it, because these grapevines tend to wilt quickly. I will often refer back to my original photos.

I select the leaves I like from the vine and cut them off. Then I make photocopies of the leaves on stiff paper, and cut out the leaves. These are my patterns.

Simply trace the patterns onto brass shimstock, and then cut them out with a pair of sharp scissors. The .003 brass will cut fairly easily with good scissors.

Clean up each leaf with a cut-off wheel. There are many varieties of grapevines. Some of them have many small serrations on the edges. You can add them with the cut-off wheel at this point.

I now thoroughly sand each leaf, top and bottom, with a rubber-backed sanding mandrel and 320-grit paper. The goal here is to remove any burrs and all sharp corners and edges.

All the leaves have been sanded. Look at the smallest leaf and compare it to the way it looked in step four. Originally, the surfaces were smooth. This was because of the difficulty in cutting the smaller serrations on the smaller leaf with scissors. Instead, I serrated these edges with the cut-off wheel.

I take my propane torch and heat the edges of each leave until they are red hot. You must be careful not to burn off or melt the points of the leaves. This process softens the brass enough so you can curl and bend the leaves without kinking the metal.

The leaves are now ready for soldering to the stems. Refer to your reference for the lengths of the stems and any curve or arc you will need to add. For this project, I am using 1.5 mm brass rod for the stems. You need to cut the stem parallel to the leaf, allowing for maximum soldering surface. Make the stem cuts with the cut-off wheel.

After soldering a leaf to a stem, I clean up any excess solder with a mini carbide cutter in a Gesswein micro motor. I then sand the joint with 320-grit sandpaper.

To add the larger veins, I emboss the leave with a ball-tipped stylus. The top of the leaf shows the depression, while the underside has the raised rib or vein. I simply lay each leaf on a soft surface (I use a phone book) and press or draw the vein with the stylus. An empty ballpoint pen will also work.

All five leaves are complete, with stems and veins. If you choose to add imperfections, such as bug holes, you can do it by grinding right through the leaf with the carbide cutter.

I now move on to the body of the branch. The first thing I will work on is the "y," or broken-off part of the main branch (A) made with 1/8" brass tube. I will make the broken branch (B) with the same 1/8" brass tube. I cut out a notch in A, just large enough to receive B, which I carve for a nice, tight fit. I've made a pin with the .5 mm brass rod, which I then bend and fit. The pin will give added strength.

These photos show me fitting the joint where A and B meet, and then after I've soldered. You can't see the pin because it is inside the tubes.

I assemble the remainder of the branch using the appropriate telescoping brass tubing cut to size. You can bend or shape the tubing prior to soldering.

The grapevine's tendrils have multiple coils and bends in them. The plant uses these to support itself by grasping onto virtually anything within reach. I make the tendrils with the .5 mm brass rod. I simply wrap and twist the brass rod around the round needle-nose pliers. Pay attention to your reference, but be creative, too.

The tendrils can be of almost any length. There is much room for artistic license when you add them. Simply drill a hole of the appropriate size in the main branch, then fit and solder the tendril.

I've now temporarily attached the branch to the base with a spot of super glue so I can add more tendrils. Once I've soldered the additional tendrils onto the branch, I'll remove it all from the base.

Once you've attached all the tendrils, it's time to add the leaves. Because I use brass rod for the leaf stems, it is not possible to use pins for added support. The leaf stems are also too big around for me to drill holes for them, as I did for the tendrils. In this case, I get additional strength and support for the leaves by notching the main branch. Simply cut out a shelf in the main branch with the cut-off wheel and solder the stems into place.

The entire grapevine is assembled.

Using the carbide cutter and 320-grit sandpaper, I clean and sand each joint.

I now enhance and thicken each joint with Kulis Karvit two-part epoxy. Check your reference materials closely. Add the epoxy at the joint and taper it to the branch. Once the epoxy dries, sand the area with 320- grit sandpaper.

The grapevine is now complete. Apply gesso to the entire piece and let it dry. Now it's ready to paint.
Painting
The painting instructions for this project will be very brief. Grapevine leaves and branches can vary greatly in color depending on many factors—time of year, geographic region, type of plant, amount of recent precipitation, and other things. More importantly, when you choose your colors, keep in mind the species of bird you will carve. Artistically speaking, colors are of the utmost importance in terms of composition. Whether you seek complements or contrasts, the bird species matters. This thought process that should start at the beginning of the project. Anybody can put a bird on a stick. Design and composition are more difficult.
The first thing to do is to put down a base of light-colored green. I don't have an exact color in mind, just something general. The color here is a blend of pure green and cadmium yellow. You can use a lot of artistic license when painting habitat.

I follow the yellow-green with burnt sienna. I concentrate this mainly on the bottom portions of the branch, and then paint lightly over the joint areas.

I begin to add color to the leaves. In this case, I use burnt sienna tinted with cadmium yellow. I also add some color to the branch areas, using some pine green and raw umber. I lighten the new-growth tendrils with more yellow-green. The old tendrils get a base color of dull gray tipped with a lighter gray.

This is a close up of a painted leaf. As you can see, I painted the veins with a lighter yellow-green. I highlighted the bug holes, and added more color to the leaf.

I do a lot more detailing and messing around before I feel the painting is complete. This is where I give full rein to artistic license. There is no right or wrong here, but pay attention to your reference, keep your bird's colors in mind, and have a good idea of what you're trying to accomplish. This photo shows my finished grapevine with the house wren in place. The greens and browns of the grapevine will nicely complement the soft browns and markings of the wren. Of course, that was all pre-planned.
Finished Works
Cooper's hawk with grapevine

Blue-winged warbler and grapevine

Baltimore oriole and grapevine

Black-throated green warbler with grapevine
YOUR RECENTLY VIEWED ARTICLES
Free tutorials, expert tips, exclusive partner offers, and more straight to your inbox!