Ruddy Love - Part Two: Painting
Some interesting techniques put some spring into this ruddys plumage.

Updated July 02, 2019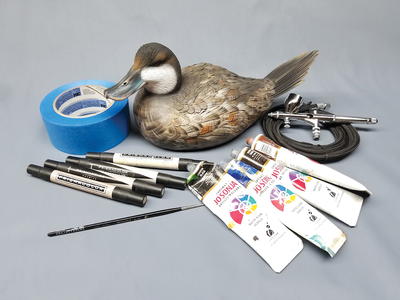 In a sense, this is a decorative smoothie decoy. Before I begin the painting process, I seal and prime the entire bird. I pay special attention to the paper feather inserts.

I've been using Krylon primer for many years. My painting style requires a very slick base for fine detail. Although I've textured and burned in some areas, the primer will cover most of the tight detail, putting each fine line beneath an even, smooth surface. Everyone knows how difficult it is to try to paint over fine texture and burning, especially when you need vermiculation. So, I depend on the primer to fill in all that detail. However, the texture will still be just visible enough to make the feathers look three dimensional. I will then create most of the fine lines and detail with my 10/0 liner brush.
I begin by airbrushing the base coat of this winter ruddy. I mix burnt umber with titanium white and add a few coats. This gives me what I call the prime coat. You want the base color to really adhere to the Krylon primer. In the previous article (Summer 2017), I explained how I prepainted the tail feathers and inserted them. I do this to make sure all feathers get paint, with no bare spots. The head will get a dark base color.
Materials List
Iwata CM-C Plus airbrush at 25 psi
Jo Sonja acrylics: Burnt sienna, raw sienna, burnt umber, carbon black, titanium white, ultramarine blue
2" blue painter's tape
X-acto knife
Prismacolor markers (cool grays and warm grays)
Medea Airbrush Cleaner
Krylon gray primer 
First Steps and Feather Work
Krylon offers a sealer and primer that I find perfect for achieving a super-slick finish on smooth or working decoys. It fills imperfections, dries quickly, and is easy to sand. I use this primer on my decoratives as well, but I don't recommend it for highly detailed and burned decoys because it will cover some of the fine detail. Let it dry between coats, and smooth with #0000-grit steel wool after each coat. If you overdo the primer and it starts to run, let it dry and then sand with 320-grit sandpaper. For me, Krylon is a must for bills. It hides all sanding marks and gives you that flawless finish.

I apply several coats of primer until I've covered all imperfections. Using steel wool between coats, I knock down any rough areas. Then I allow a week or two for the primer to cure properly before applying paint.

I have a unique way of painting. I use only a handful of paints and mix my own colors. I can paint an entire bird with just primary colors. This forces me to mix many values of color. It's essential to learn how to mix colors and know where you will need shadows and highlights. It all comes with time and practice.

I add plenty of water to my paint so it's almost like watercolor. This is important when using an airbrush. I use only one brush on my pieces, a 7350 Loew-Cornell 10/0 liner. My painting style consists of many thin lines and I depend on layers of paint. Each layer becomes value. Each value is transparent. The more layers I apply, the more color the area will retain. I've learned to use many values of each color. This helps make your piece more vibrant and rich. The more color your piece has, the more believable and alive it will be.

I've been using Jo Sonja acrylics for a long time. They dry very flat and they cover quite well. I don't use any additives, only water. I never clean my water. I have noticed that when you don't change your water, all your colors—even the whites and lighter ones—will all have a little bit of each other, combined. The end result looks more natural.

I use an Iwata CM-C Plus (Custom Micron) airbrush with a .23 mm needle. The CM-B has a .18 mm needle. I prefer the CM-C Plus because the larger needle allows the acrylics to flow better. Since Jo Sonja paints are like gouache (an opaque watercolor), they tend to dry up the needle tip. That's why I like the Medea Airbrush Cleaner. I add a drop in my airbrush cup. This helps reduce paint clots and gives me a clean paint consistency. It's a lacquer thinner for acrylics, if you will.

I'm a self-taught airbrush user. I started back in 1990, with a $20 plastic Badger. Then I upgraded to Passche VL, and then to the popular AB. Today I use the high-end Micron series, which I call today's AB, but without the hassles and headaches. The Microns run about $600 and are worth every penny. I don't recommend that you buy this model until you get some experience. Before you practice and develop patience, you can do anything with a $60 gun that you can do with a high-end gun. The difference is that the Microns are very precise. You need very little pressure and you get silky-smooth lines and no overspray. For the most part, I use the airbrush to lay down my base colors and for my stencil work. I hand brush most of my detail.

I don't recommend using an airbrush for decoys that will spend a lot of time in the water. Keep in mind that you're applying one microfilm of paint at a time. Therefore, you will need a final coat of lacquer to keep the paint from rubbing off. That goes for any acrylic brand!
 

I use 2" blue painter's tape for my stencils. (For fast, looser feathers you can use paper stencils.) Blue tape has low adhesive and will give you clean, tight results for your scapulars and tertials. I draw my feather, which is a simple shape, and cut out my stencil. You can predraw your feather groups as guides with a light colored pencil. Or you can begin laying down your feathers

You don't have to overpaint your feathers. Be sure to spray the top edge of your stencil and lightly spray the outer edges.

I sprayed four sample feathers, just to give an idea of how clean your feathers can be. These are simple feathers. You can go all out and get fancy, with large splits and exaggerated formations.

Real feathers have a two-tone look. I create that look by splitting the feather in half. I cut a curved stencil as shown here, and then spray one side of the feather darker than the other. Remember to do random sides. Do not do them all the same.

I use my 10/0 liner brush for my feather splits. You must reduce your paint by 70%. Add lots of water. In order to get clean lines, paint must flow right. If you get that dry-brush look, add more. Use the same base color. This will help blend the splits with your base color. Always follow the outer edge and curve your lines/splits inward.

Winter and hen ruddys have thick, irregular vermiculation. There are no patterns to follow, so use your reference. Some have lots of microdots, some have thin vermiculation, and the colors vary. Again, I depend on my liner to handle all markings on each feather, using burnt umber on the splits.

For the white downy part of each feather, I use titanium white. These will be random and will not appear on all feathers. I add white splits to break up the feathers.

To get that soft white, I airbrush titanium white on only the feathers that show the downy color.

Finally, I add carbon black fine lines and splits. This brings the feather together. The black lines create shadows for every light line I painted previously.
The Breast
The breast area requires lots of blocky feathers that are tightly grouped. I base coat with mostly black and some burnt umber. I make up another stencil and work from top to bottom. Since you have a dark base, mix up lighter warm colors such as oranges, burnt sienna, and browns, and stencil in all those colors randomly.
Once I have sprayed all the lighter colored feathers I proceed with blotches of the black markings that ruddys have. (Check your reference.) With my liner brush, I begin adding splits with a light brown (burnt umber and raw sienna mixed). To avoid the stencil look to your feathers, use many splits to break up the stencil's hard edge.
Side Pockets
I use another stencil on the side pocket feathers. It's the same process, moving from front to back. Here I'm using some very subtle burnt sienna. Spring is near! The stencil can help with overspray or you can freehand everything.
Next, I edge the upper-tail coverts with the liner. As discussed in the first article, be sure to prime your paper inserts well. They can get soft and warp when you add paint. Do not use a blow dryer on your paper feathers!
Tail
In the first article, I showed how I inserted my tail feathers already painted. Here I paint the tips with a mix of white and raw sienna. The ruddy tail feathers are really dark, almost black, so I paint them with burnt umber and carbon black.
Then I cut half a stencil and cover the outer edge of the feather. Spray only the outer edge. Once you've sprayed all the feathers, proceed with the liner brush and begin the feather splits with carbon black.
Head
For the white cheek patch and all the white feathers, I make an off-white for my base. You can use any brown, mixed with white or black and white, to offset the white. I paint highlights with pure titanium white. It makes the white pop on top of the darker off-white. The entire bird is pretty much made up of a variety of browns. Even with just burnt umber, raw sienna, black, and white, you have hundreds of possible values. Mix your colors around. Don't just stick to a handful of browns. Adding highlights or lighter shades in a dark area will add interest.
Bill Detail
Whenever you want your paint to show its true color, I recommend using white as your base coat. This is especially true for your greens, blues, reds, and purples. It makes all colors pop. I used burnt umber as my main base color, followed with a hint of blue, as the ruddy's spring colors are starting to show. There are many variations of bill color, so gather enough reference as your guide. Mixing a little raw sienna, white, and red will give you that used-up look on the edges.

Here's a great tip to get that perfect fingernail/natural finish on your bills/beaks. Once your bill is complete, grab a Q-tip and apply a small amount of tire dressing. It goes a long way, so you need just a small dab. Apply it all over the bill and remove excess with a clean, dry Q-tip. Be very careful not to apply any on the head.
Finishing Touches
I've been using Prismacolor markers for a very long time. I use them for subtle vermiculation. It's very effective when you lay glossy ink on top of Jo Sonja's matte finish. You get a soft, natural shimmer. The markers come in hundreds of colors. I prefer French grays, warm grays, and cool grays. Also, I begin adding the soft downy white on random feathers throughout, using titanium white applied with my 10/0 liner brush.
In Conclusion
Learning how to paint professionally takes time and patience. Learn the color wheel and know your colors. Practice every day and never get frustrated. Gather references: pictures, videos, and specimens. Remember that the colors you see on photos are not the same as those on a live bird.
Natural light is the best light to use when painting. If you're competing, take a close look at the lighting at the venue. At times, you have to really pop your colors or tone them down.
Get comfortable with mixing colors. Use as much color as possible. Keep your brush strokes clean and never over paint. I hope these tips will help improve your work. Work hard and never give up. And never be afraid to try new things.
Daniel Montano started carving in 1987 when he was in National City Junior High School in San Diego County. He is known for his palm frond carvings and feather work. Since first picking up an airbrush back in high school in 1990, the airbrush has become his tool of choice. He paints with acrylics and uses tupelo. Follow his work on Instagram @mr.feathers. E-mail: featherdart@hotmail.com.
YOUR RECENTLY VIEWED ARTICLES
Free tutorials, expert tips, exclusive partner offers, and more straight to your inbox!