The Ears Have It
What's the difference between the short-eared and long-eared owls?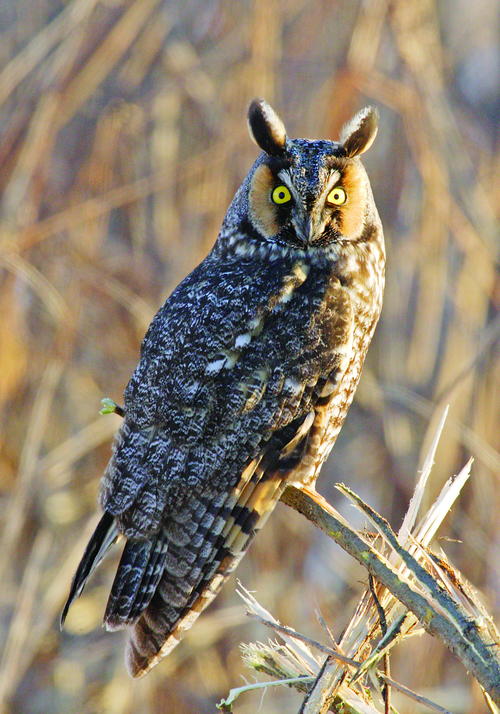 Photography by Mark Wallner
No owl is better at disappearing before our eyes than North America's long-eared owl (Asio otus). This odd, medium-sized owl looks like a shrunken version of a great-horned owl, but when it pulls its feathers into its body and lifts its ear tufts (which are located above the eyes and not near the ears) it almost disappears against its background. The long-eared owl has a close relative, the short-eared owl (Asio flammeus). Its forehead feathers stick up like the long-eared owls', but they are small and—like the owl itself—often overlooked.

Because owls are nocturnal their survival depends on their hearing ability. Evolution has given them heads with large facial disks (a scruffy tan or grayish color in the short-eared owls and a dirty orange in the long-eared owls) that work a little like satellite dishes, gathering sound waves and directing them towards the ears. The ear openings are at the outer edge of their facial discs. Typically the left ear opening is higher than the right and shaped differently. As a result, sound waves reach the ears at different times, allowing the owl to finely discriminate what they hear and making them capable of "seeing" the world in three dimensions through sound alone. Controlled experiments in a perfectly darkened room showed that long-eared owls can launch from a perch several feet above the ground, pluck a mouse from the floor by homing in on the sounds it makes, and return to its perch to swallow its prey. Short-eared owls are also adept at using sound but overall use their vision more than their long-eared cousins. Short-eared owls will start hunting near sundown, so observers sometimes spot the birds searching for prey in the fading light.

  Read the rest of this article in Wildfowl Carving Magazine's Winter 2014 issue!

 
YOUR RECENTLY VIEWED ARTICLES
Free tutorials, expert tips, exclusive partner offers, and more straight to your inbox!