Flycatcher Kings
When these birds aren't catching flies they aggressively proclaim, "No trespassing!"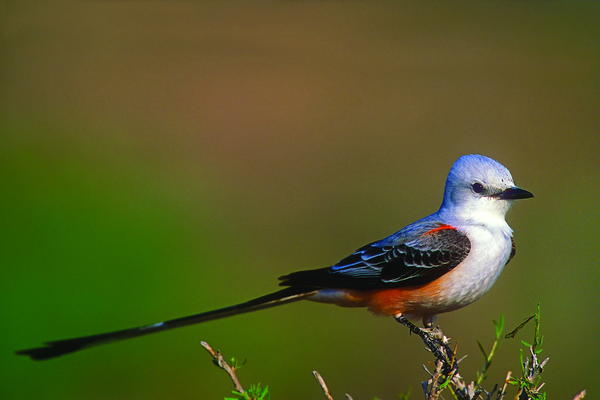 Photography by Gary Kramer net
Flycatchers do not sound like especially impressive birds. But do not be fooled by the mundane name. Our North American flycatchers are members of the Tyrannidae family, birds with attitudes that belie their body size. Collectively, we know them as the tyrant flycatchers. From the tiniest forest-dwelling least flycatcher to the largest kingbirds, every member of this group fully believes itself to be the sovereign of its territory and will gladly and physically deliver that message to any and all intruders.

Among the myriad flycatchers, a couple of charmers stand out, kingbirds that go above and beyond the group's typical haughtiness.

Midwestern forest edges provide homes for the large, great crested flycatcher (Myiarchus crinitus), which is just a little smaller than a robin and has a characteristic "wheep" call that rises at the end. It has an olivaceous back that blends into a yellow belly, gray throat and breast, and readily recognizable cinnamon color on the wings and tail. The bird lifts its namesake head crest whenever excited or agitated.

The scissor-tailed flycatcher (Tyrannus forficatus) is even easier to recognize. An inhabitant of the Great Plains, it has a pearly gray body that changes to salmon pink on the sides and scarlet in the axillaries, contrasting with dark, grayish-brown wings. The striking black-and- white tail feathers are as long as or even longer than the body (somewhat shorter in the females, but not always diagnostic to gender). The outer tail feathers are longer than the central feathers, creating the characteristic scissor tail. Their scientific name, literally translated, means "a king, with scissors." The scissor-tailed flycatcher also has a bright red crown patch that becomes visible when the bird is agitated. The bills and legs of both birds are darker and can appear black when viewed in the field.


Read the rest of this article in Wildfowl Carving Magazine's Summer 2014 issue!
YOUR RECENTLY VIEWED ARTICLES
Free tutorials, expert tips, exclusive partner offers, and more straight to your inbox!