Ugly Duckling
Yes, we know. The cormorant is not a duck. But it is ugly.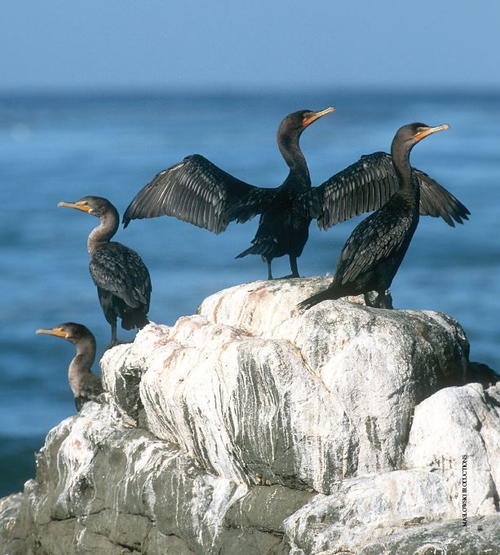 Photography by Maslowski Productions
If it looks like these cormorants are hanging their wings out to dry, that's because they are. The birds lack the oils that other bird species have to facilitate drying.

"That's a crow duck." It was 1976, and an old fisherman pointed out a strange-looking bird that swam partially submerged at the water's surface. With its bill pointed slightly above the horizon, it looked like a small U-boat. At the time, the sight was an unusual occurrence on the chilly waters of Lake Superior.

Times have definitely changed. Today, no one uses the term "crow duck," and we know this ungainly bird as the cormorant. Extended lines of migrating cormorants, sometimes comprising thousands of individuals, skim the surface of waters where the birds never ventured just a few decades earlier. They are so abundant they can become a nuisance by leaving their copious droppings on docks, trees, houses, and boats.

"Crow duck" was an apt label. The genus name for the two familiar cormorants on the North American continent, Phalacrocorax, literally translates as "bald raven." The species name for the double-crested cormorant (Phalacrocorax auritus) means "eared," referring to the two feather tufts on its head during the breeding season. They also provide the double crests of its common name. The carbo in the species name for the great cormorant (Phalacrocorax carbo) simply means "charcoal," a reference to its dark body color.

This article is from the Summer 2011 issue. For more information on our issues, check out our issues page.
YOUR RECENTLY VIEWED ARTICLES
Free tutorials, expert tips, exclusive partner offers, and more straight to your inbox!