Prairie Falcon, Part Two: Painting
Apply the paint, and make this raptor come alive.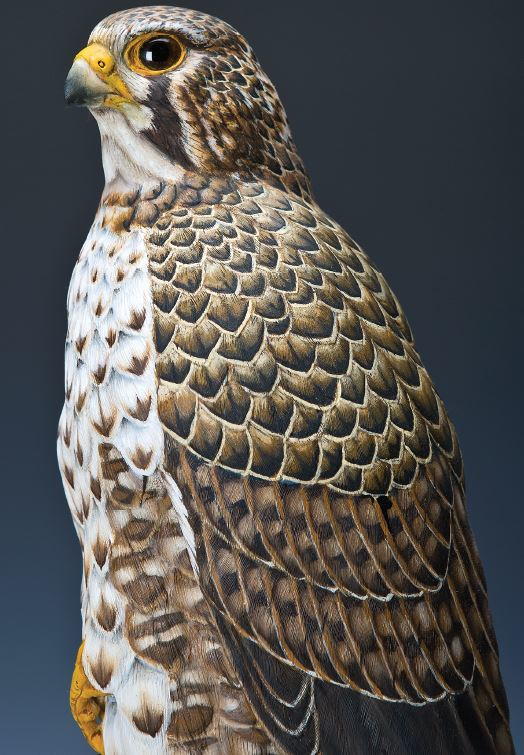 Photo Courtesy the Ward Museum by Wes Demarest
After I photographed the falcon for the first part of this demonstration (Spring 2011) and had a chance to live with the bird a little bit, I decided to repaint the face and the chest. My original attempt wasn't exactly what I wanted. I had just finished another bird with similar markings and refined a new technique that I was working on—one that I decided would work much better with this falcon. Before starting over, I coated over these areas with titanium white thinned down with the painting medium until it was about the consistency of milk.

I generally do not seal a bird before painting because the thin washes of oils generally do the job. On the light areas, I do apply a few thin coats of titanium white mixed with Schultz's painting medium. This tends to brighten those areas nicely.

I use a number of different brands of oils because no single company carries all the colors I need. I mix Schultz painting medium with the paints because it provides a good flow and speeds the drying time without destroying the colors' integrity. The brushes that I used for this bird were Richeson sable #6 for blending, Richeson sable #2. For fine detailing, I use a Richeson sable #0.

Before I begin painting, I will decide which particular phase, morph, or hue I prefer. This is one reason I love the birds of prey, for they offer so many variations. After I find the pictures of the birds that I wish to represent, I crop and resize the images to highlight the particular areas that I will paint.

This article is from the Summer 2011 issue. For more information on our issues, check out our issues page.
YOUR RECENTLY VIEWED ARTICLES
Free tutorials, expert tips, exclusive partner offers, and more straight to your inbox!