Spruce Grouse Habitat
How to make a bird feel at home
By: Jerry Simchuk

Updated April 03, 2017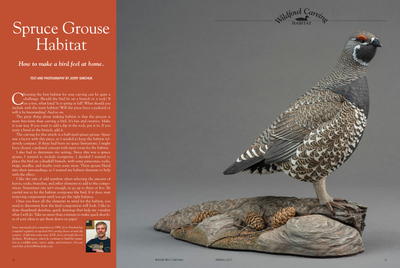 Since entering his first competition in 1994, Jerry Simchuk has competed regularly at top-level bird carving shows around the country. A full-time artist since 2004, Jerry currently lives in Spokane, Washington, where he continues to build his reputation as a wildlife artist, carver, judge, and instructor. You can reach him at Jerry@Simchuk.com.
 
Choosing the best habitat for your carving can be quite a challenge. Should the bird be on a branch or a rock? If on a tree, what kind? Is it spring or fall? What should you include with the main habitat? Will the piece have a pedestal, or will it be freestanding? And so on.

The great thing about making habitat is that the process is more free-form than carving a bird. It's fun and creative. Make it your way. If you want to add a dip in the rock, put it in. If you want a bend in the branch, add it.

The carving for this article is a half-sized spruce grouse. Space was a factor with this piece, so I needed to keep the habitat relatively compact. If there had been no space limitations, I might have chosen a pedestal concept with more room for the habitat.

I also had to determine my setting. Since this was a spruce grouse, I wanted to include evergreens. I decided I wanted to place the bird on a deadfall branch, with some pinecones, rocks, twigs, needles, and maybe even some moss. These grouse blend into their surroundings, so I wanted my habitat elements to help with the effect.

I like the rule of odd numbers when selecting the amount of leaves, rocks, branches, and other elements to add to the composition. Sometimes one isn't enough, so go up to three or five. Be careful not to let the habitat overpower the bird. If it does, start removing components until you get the right balance.

Once you have all the elements in mind for the habitat, you need to determine how the final composition will look. I like to draw thumbnail sketches, quick drawings that help me visualize what I will do. Take no more than a minute to make quick sketches of your ideas to get them down on paper.

This article is from the Spring 2017 issue. For more information on our issues, check out our issues page.
 
Tags / Related Topics
YOUR RECENTLY VIEWED ARTICLES