Rodents Beware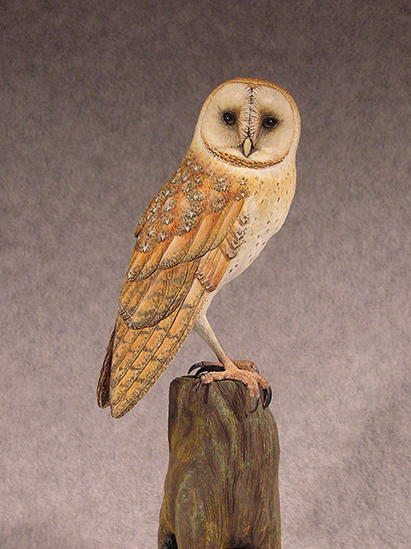 Rodents Beware is a name that suits this owl perfectly. Having lived on and around farms most of my life, I know how often you see mice. Farmers know to welcome barn owls into their barns as pest control. These beautiful raptors are much more effective at catching mice than any trap and much safer than poison.

The barn owl is a medium-sized, "earless" owl with some unique characteristics. It has a heart-shaped white face with dark eyes, pale coloration, long knock-kneed legs, and wings that extend beyond the tail. The length ranges from 14 to 18 inches, with the females tending to be larger and more darkly marked than the males. At some stages, though, the male and female are virtually indistinguishable. As the male matures, he will lighten and become less marked.

Barn owls live in many areas around the world. In the United States they prefer more arid surroundings at lower altitudes. They roost and nest in buildings such as barns, sheds, silos, attics, towers, and almost any vacant building that provides shelter and close proximity to food. Their diet consists primarily of small rodents, with birds and reptiles making up the rest. Many consider this owl to be the best and most beneficial rodent hunter of all.
YOUR RECENTLY VIEWED ARTICLES
Free tutorials, expert tips, exclusive partner offers, and more straight to your inbox!