Core Sound Style, Part Two
Some decoys are old. Some just look old.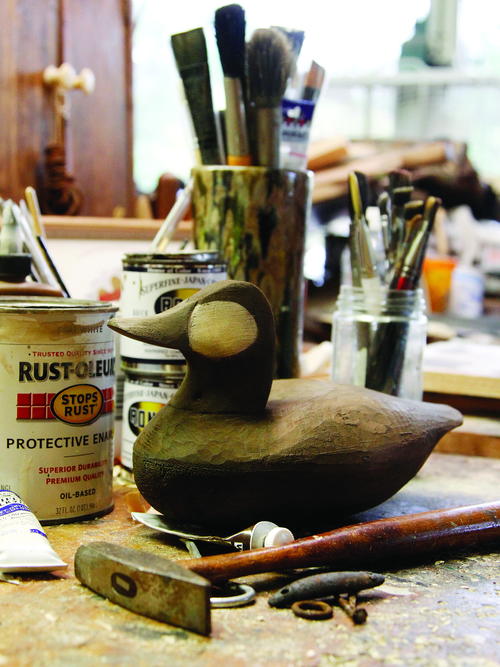 Photography by Keith Hendrickson
Something just seems to draw us to old, rough, beat-up decoys. Maybe we like to imagine the stories the old blocks would tell if they could talk. They've been hunted over, thrown under skiffs as soon as the season went out, and at some point probably repainted. Paint layer covered paint layer as the years passed. Some of the old blocks received a few accidental drips of boat paint, depending on where they landed under that skiff during the off season. It took decades for time to add its natural patina to true antique birds.

In the following pages Jerry Talton will demonstrate the method he has worked out to add that old look to his decoys in a matter of weeks, using a handful of basic and surprising steps.

The paint technique of true Core Sound-style decoys is as simple as it gets. The decoy makers applied block-style paint to the birds with whatever paint was available in the boathouse. Usually basic black, white, and brown oils made up the palette. Jerry uses a traditional paint style for this ruddy duck. His antiquing method takes about two weeks to finish so he often works on several birds at a time. He starts out by staining the carved block and follows that by applying a thinned paint layer as a primer. After allowing for drying time, Jerry moves rapidly to add the final paint layer and then uses some interesting but workable methods to partially remove it. So let's get started and add a few decades to this newly carved block.


Read the rest of this article in Wildfowl Carving Magazine's Spring 2014 issue!
YOUR RECENTLY VIEWED ARTICLES
Free tutorials, expert tips, exclusive partner offers, and more straight to your inbox!