By Any Other Name - Part II
Painting a decorative smoothie long-tailed duck
By: Laurie J. McNeil

Updated April 14, 2017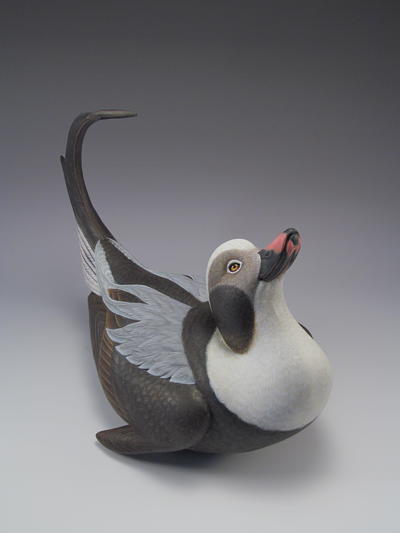 You can follow Laurie J. McNeil and her teachings through her Facebook Page, http://Facebook.com/TheArtistryStudios. Offering private and group instruction, Laurie is available for speaking engagements and demonstration workshops across the USA and abroad. Contact Laurie for more information and to schedule your event, or to order a commission piece, by e-mailing Laurie@TheArtistry.com.

I used to struggle when I painted decorative smoothies. I find it much easier to paint decorative pieces. By the time I paint a decorative, I have already added the detail by carving, texturing, and wood burning. After that, all I have to do is put the correct color in the right place.

With a decorative smoothie, you use paint to create the feather detail on a three-dimensional canvas. You must paint in every feather and its detail, and contour them through shapes, quills, and the individual barbs. The way you make the barbs flow off the quills contributes greatly to a contoured look. You can create additional contouring with subtle shading and highlights.

For me, using an airbrush is like speaking a different language. I used the airbrush primarily for base-coat applications and for a couple of raptor palm fronds back in the 1990s. I stopped using it entirely in 2012 after I had a major breakthrough on a short-eared owl palm frond commission. This was when I began developing my own hand-painting process, one that gave me control over the painting, instead of letting the painting control me.

If you think painting is complex, I hope to change your mind. I break down my painting into manageable areas, which makes it less daunting. With each step I take, the bird comes more and more into focus. I start by blocking in base coats, and end by painting feather splits.

To see the part one of this article, on carving, click here. 

Read the complete article in Wildfowl Carving Magazine's Spring 2016 issue.
Tags / Related Topics
YOUR RECENTLY VIEWED ARTICLES