Miniature Whooping Crane, Part Two
Part Two: Painting And Habitat
Imagine how much paint you'd use if this were life-size!

Updated March 24, 2021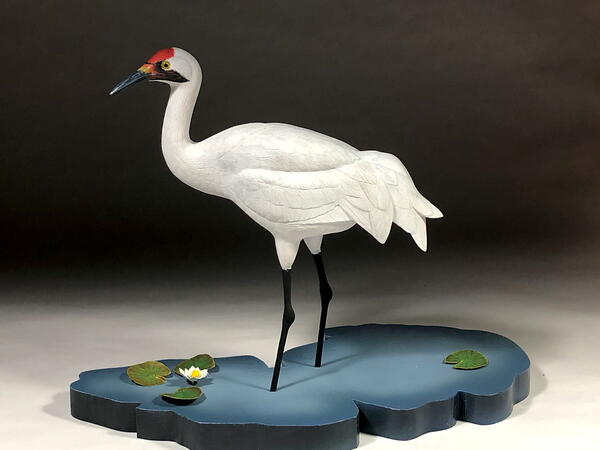 Miniature Whooping Crane Part Two
In the last article I explained how I carved, textured, sealed, and gessoed the whooping crane. Now it's time to paint. The whooping crane and other mostly white birds (such as the great white egret) present a particular challenge when it comes to painting. It is often difficult to see feather patterns on these all-white birds. Yet if we don't define some of the feathers and feather groups we end up with a flat look—the kind of look you get after the gesso stage. Back in the Summer 2012 issue I explained the process I used to paint the American white pelican. I will use this same process here. As I said then, I paint the shadow color at the base of the feathers (where two feathers overlap). Then, working from the outer edge of each feather, I apply straight titanium white and draw it toward the base of the feather, wet blending the white with the shadow gray. I try to work quickly so both colors remain wet until blended. The aim is to get a smooth transition from the stark white feather edges to the darkest shadows at the base without any hard lines between white and gray. For the whooping crane, I will use this process to paint everything but the head and legs.
YOUR RECENTLY VIEWED ARTICLES
Free tutorials, expert tips, exclusive partner offers, and more straight to your inbox!