Old School
Bill Kennedy prefers hand tools.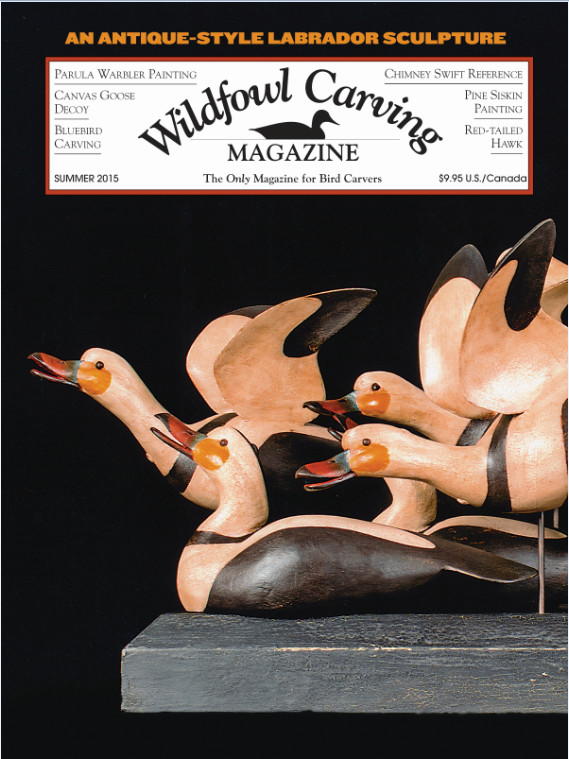 There are two schools in the wildfowl carving world—power carving and hand tools. William Kennedy definitely falls into the latter category.

Bill's connection with Wildfowl Carving Magazine is a fairly recent one. His work first appeared within our pages in the Spring 2009 issue, when he submitted some photos of red-breasted mergansers for the Reader Showcase section. "I have carved in a fairly private manner for all these years," he wrote, "emerging to enter very few competitions, although when I did enter I've done quite well." Little did I realize that Bill was a remarkably talented (and experienced) carver who would quickly re-emerge onto the carving scene and become a major force in antique-style carving. Since then, he has written a few articles for the magazine, won a few more ribbons at competitions, and has become a regular presence at the Easton Waterfowl Festival in Maryland. I always make a point of dropping by Bill's booth at Easton because he's guaranteed to have something amazing on display.

Bill calls himself "Old-School Willie," which should give you a good idea of his approach. No power tools and airbrushes here. He likes to carve the old-fashioned way, with hatchets and gouges—the way the old-time Maryland carvers did when Bill was growing up there. He has called them the "hand chop/shaving horse boys." But while his inspiration comes from the old school, Bill likes to include some unique new twist in his carvings. That's certainly the case with the Labrador sculpture he writes about in this issue. It looks both old and timeless.

Bill carved the Labradors for collector Frank Jonczak of Bel Air, Maryland. Frank has been collecting Labrador carvings since 2007.

He sent us some photos, so we thought it would be fun to offer a peek at Frank's collection. You can find the pictures as a special web-only bonus feature right here.


This article appeared in Wildfowl Carving Magazine's Summer 2015 issue.
YOUR RECENTLY VIEWED ARTICLES
Free tutorials, expert tips, exclusive partner offers, and more straight to your inbox!