New Old Stuff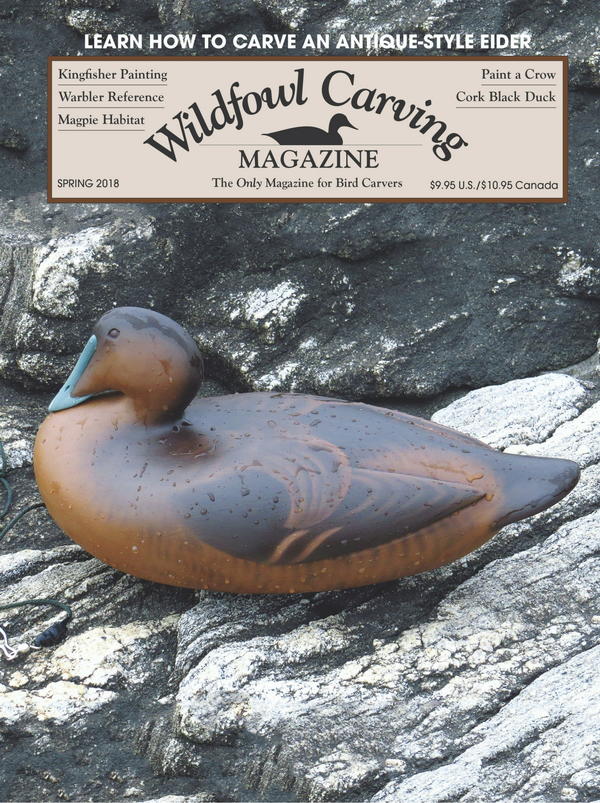 New Old Stuff
We're launching what I hope will be a continuing series this issue. Keith Mueller kicks it off with a demonstration of a contemporary antique hen eider, based on the work of Maine decoy maker Gus Wilson. In future issues, we plan to spotlight more modern antiques with work inspired by carvings of the past. Regular contributor Keith Hendrickson is already working with several carvers who are eager to show us what inspired them. (Keith's article about carving a cork black duck also appears in this issue.)

Contemporary antiques are kind of like the double agents of the carving world. They practice two layers of deception. The first is, like all decoys, to fool the real birds. The second deception is to fool humans into thinking that these new carvings are really very old. (They don't seek to fool us into thinking they are an actual antique decoy, though. There is a word for that, and that word is forgery.) I love how these new old birds can capture the feel of something classic and tie us to the traditions of yesteryear. Others must feel the same way, because contemporary antiques are very popular these days. I hope you will all be inspired to try carving your own.

We have a lot of exciting things going on at Wildfowl Carving Magazine right now. In February, we did our first-ever Facebook Live event when I sat down to interview acclaimed carver Floyd Scholz at company headquarters in Illinois. We also took advantage of Floyd's presence in the studio to shoot a series of videos with him, and we will be debuting them soon. (Anyone interested in painting will be in for a treat.) This is just the start of a slew of video and streaming activity, so stay tuned.

In addition, we are in the middle of adding a whole bunch of great features to the Wildfowl Carving Magazine book club. Members will still get the low member prices for our new books (including Competition), but we also plan to offer a lot of new benefits as well. If you don't already belong, you should! And did I mention it's free? You can sign up here. 

Probably the most exciting new development is our upcoming Online Carving Competition. It's the first time we've tried something like this, and it will be pretty cool. Competitors can start uploading photos of their carvings on May 1. For more information, visit our contest page.

Make sure you don't miss any of these exciting developments. Sign up for our newsletter and check us out on Facebook. Old decoys are great—but new stuff is exciting, too!
YOUR RECENTLY VIEWED ARTICLES
Free tutorials, expert tips, exclusive partner offers, and more straight to your inbox!