A Pair of Hawks
The Cooper's and sharp-shinned are nearly identical cousins.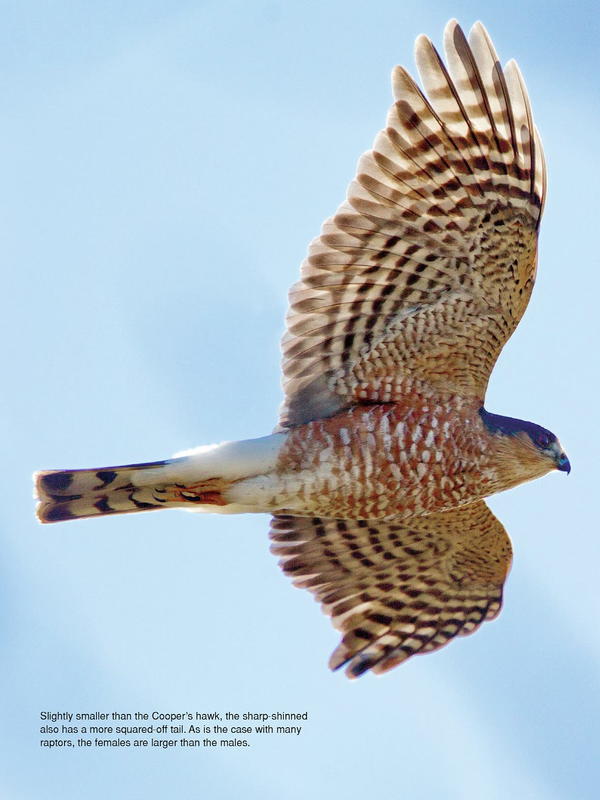 Photography by Steve Maslowski
Adapted from Talons in the Sky: The Great Gallery of Eagles, Hawks and Owls. ©2016 by Ampry Publishing, LLC.

Regular contributor Rick Burkman started watching birds at a young age 50 years ago. Many years later he began a professional writing career and has written for bird magazines, regional magazines, and newspapers. He currently serves on the planning team and communications committee for the Wisconsin Breeding Bird Atlas II, and conducts regular field surveys for breeding birds.

Fiery red eyes peer with intelligent intent out of a body armored in feathers of blue-gray steel and rust. This is an apt description of two of the most graceful, powerful, and deadly hunters of the deep woods, the sharp-shinned hawk (Accipiter striatus) and the Cooper's hawk (Accipiter cooperi). (The third North American member of this group is the northern goshawk.) Although these birds can be quiet and difficult to find unless they are migrating, they are widely admired. As award-winning carver Floyd Scholz wrote elegantly in his book Birds of Prey, "The Cooper's is an incredibly beautiful creature, extremely well proportioned, a seemingly perfect combination of size, color, and form." What more is there to say, except that its cousin, the sharpie, is equally stunning?

This article is from the Fall 2016 issue. For more information on our issues, check out our issues page.
YOUR RECENTLY VIEWED ARTICLES
Free tutorials, expert tips, exclusive partner offers, and more straight to your inbox!