Fall and Rise of the Peregrine Falcon
This bird knows how to get down.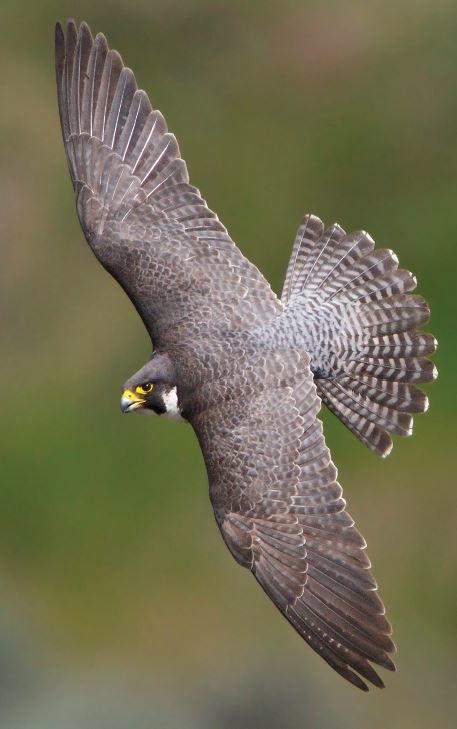 The peregrine's wingspan can be up to 41 inches. Females are larger than males.

The peregrine falcon (Falco peregrinus) is a world-class bird, an admirable mixture of wild nobility and simple self-confidence. A peregrine looks distinctly formal with its dark, slate-gray back and darker crossbars, deep blue-gray head, and distinguished mustache, all contrasted nicely with a creamy colored throat, yellow eye ring, golden cere, and whitish, dark-barred breast. They have keen eyesight—eight times better than ours—but they lack the heavy brow ridge of hawks, which gives them a slightly less stern appearance.

Peregrines are raptors so their gentler gaze is backed by a stocky body that exudes power and strength. Maybe we relate to peregrines so well because, despite their obvious prowess, they also seem a little self-deprecating. After all, the birds' seriousness is slightly undercut by their distinctly barred "flags," the falconers' term for the leg feathers that make it appear that peregrines are wearing a pair of old-time golf knickers or pantaloons.

Flags aside, the peregrine appears noble enough when perched. Its real beauty, though, comes in the air. The birds can soar effortlessly above the trees and through mountain passes on long-distance migrations, floating like kites on warm updrafts and drifting toward their destinations. Some peregrines travel more than 15,000 miles on their annual journeys (the Latin word peregrinus means "wanderer"). Not only can they drift with little effort, but when they dive, the birds can also accelerate to speeds that have been clocked at more than 200 miles per hour. In ground-hugging pursuits, a peregrine resembles a jet fighter at full afterburner. Peregrine falcons also glide above coastal shorelines, plummet into dry deserts, and rest and roost on mountain cliffs and city skyscrapers. Wherever they live, peregrines are predators of the air, and they own the skies that they call home.

This article is from the Fall 2012 issue. For more information on our issues, check out our issues page.
YOUR RECENTLY VIEWED ARTICLES
Free tutorials, expert tips, exclusive partner offers, and more straight to your inbox!