The Vocalist
Its familiarity may breed contempt, but the song sparrow knows how to announce its presence.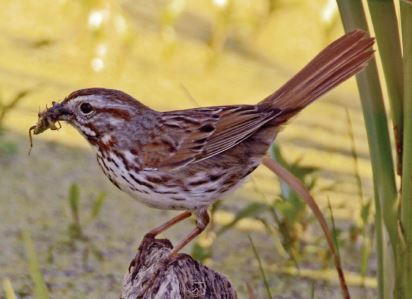 Photography by Tom Slaughter
A Montana song sparrow forages at the water's edge on a side channel of the Missouri River.

Ask people to name their favorite birds, and the selections will likely be dramatic, regal, and spectacular (a peregrine falcon, a golden eagle, maybe a goshawk) or brilliantly colored (the painted bunting, western tanager, cardinal, or oriole). I select the song sparrow (Melospiza melodia). It may be commonplace, but the sparrow is a worthy bird and a fine subject for carving. 

Sparrows have a lot going for them. They're abundant, and you won't have to travel far to see one. Not only are they easy to observe, they're also very entertaining, with complex behavior patterns and varied vocalizations. Roger Tory Peterson stated that the Henslow's sparrow had "the poorest vocal effort of any bird," but Bachman's sparrow is one of the finest songsters in the bird world. Finally, although they are not gaudy, the sparrows have their own beauty, and it is a lot more fun to render on a carving than, say, the unbroken yellow of a goldfinch. 

This article is from the Spring 2010 issue. For more information on our issues, check out our issues page.​
YOUR RECENTLY VIEWED ARTICLES
Free tutorials, expert tips, exclusive partner offers, and more straight to your inbox!