A Little Variety
Take a clue from Aldo Leopold and add some attitude to your rig.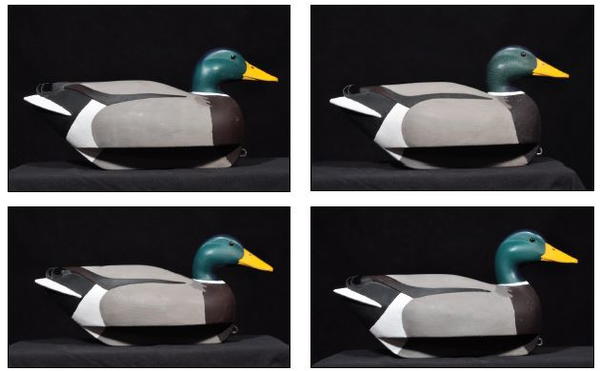 Photography by Frank Werner
I make four different social drakes from the same plan pattern by varying the horizontal angle of the bill, the position of the head relative to the front of the decoy, and the elevation of the head seat. I've made a number of other variations on this pattern.

Waterfowlers know that a rig with deeks in a variety of attitudes will attract more game than one in which all look alike. An effective rig will include decoys representing fowl in a number of different attitudes. Pioneering conservationist Aldo Leopold (1887-1948) recognized the concept in an article titled "Mallard Decoys" he published in Forest and Stream magazine back in 1920.

As Leopold wrote, "This pattern calls for two degrees of inclination of the heads, and each head is set on the body at a different horizontal angle—in other words, no two heads have the same posture. This is the biggest single advantage to be gained from home-made decoys. In my opinion, the monotonous uniformity of posture of ordinary decoys sometimes drives away ducks that might otherwise come in, as uniformity of posture is assumed by ducks when they are scared" (italics are his). Leopold also suggested tilting the tails at different angles to add even more variety.

Leopold came up with half a dozen different stool using a single pattern and two horizontal head angles with heads turned left and right and looking straight forward. Remarkable as that was, his attitudes all represented mallards acting as they would in the company of other mallards, a group of attitudes I would identify as social.

This article is from the Summer 2010 issue. For more information on our issues, check out our issues page.

YOUR RECENTLY VIEWED ARTICLES
Free tutorials, expert tips, exclusive partner offers, and more straight to your inbox!