The ABCs of Custom Carving Knives - Advice from the Pros

Updated May 24, 2018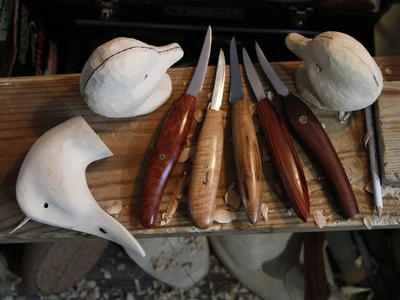 A few years ago at the Ward World Championship in Ocean City, Maryland, I watched Ashely Gray do a knife demonstration. He used a big, long tupelo knife in a way I had never seen before. Once he finished, I set off to visit the knife vendors at the show and get myself one of those long knives. As I browsed the vendor booths, I felt a bit like a kid at a candy store. Not only did I get to see all the different knives, but I also got to see how carvers used some of them.

In the first part of this article (Winter 2016), I discussed how custom knives are manufactured and demonstrated the basic cuts. In this part, I'll share the viewpoints of several top carvers. I had my work cut out for me (pun intended) trying to find bird carvers who use knives. Most of the ones I approached use Foredom tools to remove the bulk wood and some micromotor tool for fine detail. All the carvers I interviewed agreed that knives usually offer better control of the amount of wood you remove. It also is a more relaxing carving method, and is obviously a lot quieter than running a power grinder.

This article was featured in the Spring 2016 issue. 
Curt Fabre
Curt Fabre of Curt's Waterfowl Corner is 86 years old, so one can only imagine the experience he has to share. As is true for many of the dominant carvers coming out of Louisiana, carving is a family thing. Curt's dad, who was also a knife maker, taught Curt how to carve.

Cajuns like Curt prefer to carve their decoys out of the light, soft, rot-resistant tupelo that grows in their swamps. With its soft grain, tupelo can be a beast to carve, so the Cajuns developed a knife with a long blade that sliced the grain better. "Dad would take the straight blades from Germany and work them down to a much thinner, long, flexible blade," Curt says. "Long blades are strong because they can flex." Through experimenting with many different blade shapes, Cajun carvers learned that a sweeping blade with a curved tip and a bit of concave shape in the neck and body would slice the tupelo better than other blade shapes—especially straight edges.

Once Curt's father passed, Curt tried knives by other carvers in the region. Some had great blade shapes that worked, but other knives wouldn't hold their edges, or they would snap. Currently, Curt seems happy to sell knives made by Dave Lyons. Dave has worked with several of the Cajun carvers and has tupelo knives of various shapes and sizes that work very well for all sorts of carving.

Curt offers a few tips. By holding the knife in your fist and pulling it toward you, he says, you can remove lots of wood quickly. You use the blade's entire length, much like a draw knife. Exploit the blade's flex to get into those hollow curves. When Cajuns hold a knife, they keep their hand out in front, holding their work in their lap. As they pull the blade through the wood toward them, they allow the forearm to pull toward their belly. That stops the arm and thus the blade, keeping the knife well away from any danger point.

Curt's final tip deals with sharpening your knives. "A good carving blade forms a perfect V from the top of the blade to the edge," he says. "Get a good strop that is basically a flat board with fine-grained leather glued to it. Lay that blade flat on that board and keep it flat. DON'T round off your edge by changing the angle!" What's the best sharpening compound? Curt swears by an Amish-made bowling-ball wax. He says that the bowling alleys use the wax until the pieces are about the size of baseballs. You can talk them out of the smaller pieces and then cut them down to wax your strops. The wax has just enough grit to sharpen the knives, and the wax in the compound helps the blade slice through the wood.
Del Herbert
Master carver Del Herbert is a retired civil service worker who lives in California (and is one of the Ward Foundation's Living Legends for 2016). He enjoys carving all types of fowl, from the smallest songbirds to great big herons. Del says that the amount of knife carving he does on a piece depends on the size of the work. He will start on the band saw, move to a belt sander, and switch to the Foredom to rough out the piece. He then switches to a knife to do all of his detail work. On a large piece, Del estimates that he does 75 percent of the work with power tools and the rest with knives. On smaller projects such as shorebirds, he reverses those proportions. "Basically I use the knife for all of the detail work like the head, eyes, and bill," he says.

Del's go-to knives are a 11?4" general-purpose knife, a 1" detail carver, a 1/8" V-gouge, and a 3/8" wide offset chisel. His favorite knife is the general-purpose knife. "However the best part of all my knives is that I shape the handles myself." He likes the shape of a "shadbelly" handle. "The shad-belly design of the handle is very comfortable and the spine of the blade coming off the back of the handle positions the blade just right for my hand," He explains.

Del recommends that beginning carvers start with a 1" to a 1 1/4" general-purpose blade from a reputable manufacturer. "Buy the best knife you can afford and stay with it," he advises. "That way you won't end up with a drawer full of cheap knives that you don't use." He suggests spending at least $35 to $55 on your first knife. Finally, he says beginning carvers must make sure they use the knife correctly, taking time to learn to read the grain of the wood to make the knife cut easier and safer. "Don't try to push your knife through your work," he says. "Use a slicing motion. And keep it sharp, honing it often."
George Strunk
George Strunk is a master carver from New Jersey who carves mostly with traditional hand tools. Many other excellent carvers credit George with teaching them the art of traditional decoy and shorebird carving. Strunk quickly shapes a decoy with knives, gouges, and spoke shaves; switching back and forth from one tool to another as he navigates a bird's difficult-to-carve areas. He tends to take a larger flat-edge blade and use it much like a draw knife, hand plane, or even a spoke shave. In many places where other carvers might use a skew chisel or gouge, George takes a knife and slices through white cedar as though it were butter.

A famous knife maker, Tony Bose, provides the knives Strunk uses. Tony has designed numerous collectible knives for manufacturers such as Case XX Knives. His carving knives have full-size handles that can seem heavy but are very strong. George likes the flat edge of the Wharncliffe-style blade that Tony Bose 14 WILDFOWL CARVING Jack Cox says the carver's most important tool is the pencil. Then the knife. Cox instructs new carver Pam Davis Morris on how to carve with a knife. GEORGE STRUNK (3) George Strunk likes the knives made by Tony Bose. He also uses one of Bose's pocket knives. made famous. It is a strong utility-style blade that is easy to sharpen since the edge is flat. Strunk also often uses a Bose-made pocket knife. He suggests sticking with a good knife so you can get used to it. Make it sharp and keep it that way.
Jack Cox
Jack Cox is a Master Carver from the Currituck region of North Carolina. His business keeps him busier than he likes, and he uses carving to leave work back at the factory. Jack often participates in meetings of the North Carolina Decoy Carvers and Collectors Guild, giving less-experienced carvers tips and showing them how to make things easier for themselves. Jack carves mainly highly detailed competition decoys and shorebirds using a Foredom and micromotor to do most of the work. Once he gets to the detailing stage, he shifts gears and moves to a knife. "I get back on it with the knife because I am moving a lot slower. It cleans the tool marks up, making it easier to sand. I guess it gives you time also to look at the shape. The most important tool you can have is a pencil… then a sharp knife. Always use that pencil to plan out your next moves, direct the flow of feathers, and indicate what needs to come off and what needs to stay."
Jay Miles
Jay Miles is an American folk art carver from Wells, Maine, where he owns and operates Kicking Bull Gallery. His work looks much like pieces of Americana taken from a barn or old farmhouse during the early 1900s or before. Jay's highly developed antiquing process is worthy of an article in itself. Like many of the other carvers interviewed for this article, Jay uses a Foredom, Dremel, and RotoZip to shape his work. Once he gets most of the wood off, he turns to a dozen or so knives made by Cape Forge. He does all his 'fine tuning' with a knife; his favorite being a straight edged general carver.

Jay has some good tips for safety. "You have to keep your knives razor sharp at all times, so it becomes imperative to keep safety first," he says. He uses a pair of goatskin gloves and suggests using extra caution when cutting or drilling in your lap, in the neighborhood of some major arteries. "If your knife, drill, etc. slips and cuts one of those arteries, you can quickly bleed out in a matter of minutes," he warns. A thick leather apron will help protect your lap and your belly if you carve like those Cajuns, pulling the blade toward your body. Always be aware of where your fingers are and keep them out of the way of not only sharp knives, but also band saw blades and table saw blades.
Tags / Related Topics
YOUR RECENTLY VIEWED ARTICLES
Free tutorials, expert tips, exclusive partner offers, and more straight to your inbox!