How I Carve For Competition
If you want to compete, add a little something extra.

Updated July 02, 2019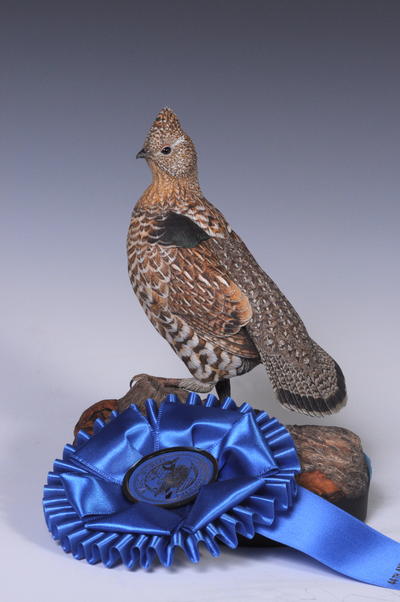 Every year people ask carvers, "What are you going to do for competition?" If you don't know the answer, then you probably won't be ready to compete, especially at the Ward World Championship in Ocean City, Maryland. Preparing for the Worlds requires serious thought, consideration, and planning. When I entered in 2014, it was with a piece I called "Peaceful Autumn." It had been in the works for nearly eight years!

Every sculpture originates with an idea or inspiration. My inspiration for "Peaceful Autumn" arrived after many years watching ruffed grouse around my house and seeing them in the woods while hunting and hiking. The real kicker, though, came when I obtained a male ruffed grouse in pristine plumage after the bird ran into a customer's house. I sent the skin to my taxidermist.

An original composition is important for competition. Try to come up with something that hasn't been done many times already. Look at photos or watch the birds in the wild to get a feel for what makes them interesting. Don't try to force a concept. If you do, the end result will look forced. Many times my subconscious will work on a problem while I'm sleeping.

Some of my competition carvings originate with a customer's request. In this case, I sat down with my customer to discuss specifics and ideas after I received the great specimen. We decided on a half-life-sized ruffed grouse in a particular stance and posture and agreed that the carving would compete at the Worlds.

Since entering his first competition in 1994, Jerry Simchuk has competed regularly at top-level bird carving shows around the country. A full-time artist since 2004, Jerry has been creating wildlife art sculptures in bronze. He currently lives in Spokane, Washington, where he continues to build his reputation as a wildlife artist, carver, judge, and instructor. You can reach him at Jerry@Simchuk.com.

Read the rest of this article in Wildfowl Carving Magazine's Spring 2015 issue.
Wildfowl Carving Competition
Rules of Thumb
Never start a carving two weeks before competition. Maybe for a working decoy, but not for a decorative.  

Give yourself plenty of time, which means months if not a year. 

Never go to the show with the piece unfinished so you have to paint it just before the entry deadline. No disrespect to those who do, but I just don't like being under that kind of stress. 

Plan for at least twice the time and effort than you would normally apply to a carving. This is competition, so you want to push yourself to do your best work possible. 

Plan for breaks so you can step away from the work. Given the level of focus and detail, you need to pause once in a while and make sure you're going down the right path. You can often spot mistakes before it's too late to correct them. 

You can make or break a great carving with the painting. Pay even more time and attention to it. 

Listen to your gut. If you feel something isn't right, fix it to your liking, or get someone to provide some feedback to either confirm or deny what your gut is saying. 

If you are running out of time, it's ok to wait for next year's show. Don't force the finish.

If you find yourself saying, "It's good enough," take a break and ask yourself later if it really is. No shortcuts. 
Jerry Simchuk's Creative Process
For a closer look at any of the steps, click on the image to enlarge.
Use taxidermy mounts only as the basis for an idea. Find reference photos of live birds and compare them to the mount before you make your pattern. 

I decided to create the habitat first so I could get into the groove. I started by drawing in the elements I wanted, and then rough-cut the stump and rocks, leaving the leafy surface for last. Once I was pleased with the rough layout of all the ground elements, I went back and detailed them. This is also when I looked again at the composition. Sometimes I get carried away with the free-flowing habitat creation and go off track. If I feel things are not coming together at this point, I can always go back and carve another habitat.

With this project, I roughed out the body first to make sure it worked well with the habitat. Also, I wanted to shape and form the head to the body. If the bird doesn't look good after this stage, you haven't put a lot of time into the piece. You can always grab another block and rough it to this point if you are not happy with how it's turning out. 

Once I was satisfied with how the body was coming together, it was time to rough out the head and bring the piece to life. The bird should look alive at this early stage. If it doesn't, you might be in trouble.

I moved forward with the feather grouping and layout when I was satisfied with the roughed-out bird. Make sure to give variety to feather length and spacing. You can add a lot of life and interest by dropping a feather here and there. 

With the bird ready for detailing, it was time to create the legs and place the bird on the habitat. View the carving from all directions to assure a good sense of balance. This can be a good time to take a break. Come back a week later with fresh eyes. If something doesn't look right with the legs or stance, this is the time to correct it. 

When I was ready to begin texturing, I first set the eyes in place. Now I was committed to moving forward. I spent a lot of time chipping away at the fine detailing work.

I worked on the legs and feet over a few days. I spent the first day working the metal to form the toes and talons and then applied the Apoxie Sculpt in rough form. I let the Apoxie cure overnight. I spent the second day grinding and doing the final shaping of the legs and toes. I then attached the toes and applied a final application of Apoxie Sculpt to the wrist, where the toes attach to the legs. I let this cure overnight. On the third day, I did the final detailing of the wrist area to blend the details into the legs and toes. 

Fine texturing is now under way. I used magnifier glasses to assure I kept the texturing to its reduced scale, tight and shallow. This step can take quite a bit of time, so be patient. If you rush, you will texture too deeply and coarsely.

I decided to paint the habitat first. Compared to painting the bird, it's an easy, free-flowing process. You have a lot more flexibility with the habitat. I wanted to apply colors first to the underlying elements, the rocks and stump. I began painting the leaves with the shadowing (raw umber) to show the separation from one leaf to the next. If you are painting fall leaves during the fall months, go outside and collect a few sample leaves. I like adding slight variations of yellow, orange, and red tones as I establish the base coloration for each leaf. I applied colors in thin washes and built up the tones over multiple layers. This allowed colors to work with one another so I got more tones than I would have with a straight color mix. 

I referenced the skin and live bird photos to get the coloration of the legs and toes as close as possible to the live bird. Quite often this is an area where people take shortcuts. For a competition piece, you want to create the subtle variations of tones that exist in nature. Even the talons will be more than just a black color. The tones change from the tip to the base of the talon. 

After considerable time dissecting the bird and figuring out how best to approach him with paint, I decided to start with the tail and work forward. I applied a base gray tone to the tail, and that shading will show between the markings and vermiculation pattern. Once the base color was in place, I applied the bands and markings on each feather. The next step was to go back and create the vermiculation for each feather, and then touch up the in-between markings and vermiculation with lights and darks to create more variation and life. This is the time to add any other color tones you've observed. Highlighting feather edges and splits was the final step to completing this feather group. With the tail completed, I could now move up to the back and upper and lower tail coverts.

As I moved forward on this bird, I found each group had its own unique set of markings, patterns, and coloration. Breaking this complex bird into its simplest form made the painting much easier. Looking at the entire bird can be overwhelming, and you may never want to start painting! Once I reached this stage in my painting, I stopped taking photos. I was in a serious painting frame of mind. I didn't come out of it until I was done.
YOUR RECENTLY VIEWED ARTICLES
Free tutorials, expert tips, exclusive partner offers, and more straight to your inbox!