How I Carve For Competition
If you want to compete, add a little something extra.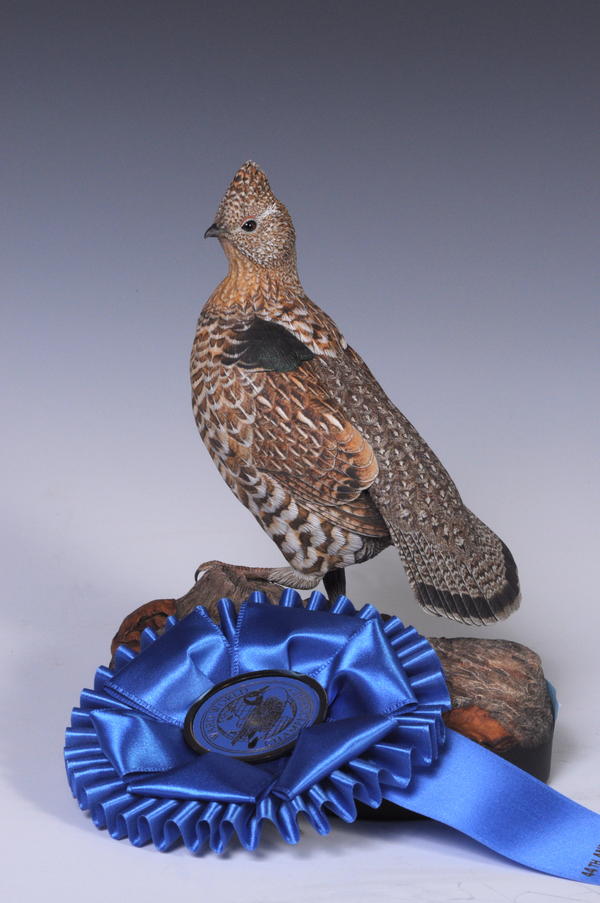 Every year people ask carvers, "What are you going to do for competition?" If you don't know the answer, then you probably won't be ready to compete, especially at the Ward World Championship in Ocean City, Maryland. Preparing for the Worlds requires serious thought, consideration, and planning. When I entered in 2014, it was with a piece I called "Peaceful Autumn." It had been in the works for nearly eight years!

Every sculpture originates with an idea or inspiration. My inspiration for "Peaceful Autumn" arrived after many years watching ruffed grouse around my house and seeing them in the woods while hunting and hiking. The real kicker, though, came when I obtained a male ruffed grouse in pristine plumage after the bird ran into a customer's house. I sent the skin to my taxidermist.

An original composition is important for competition. Try to come up with something that hasn't been done many times already. Look at photos or watch the birds in the wild to get a feel for what makes them interesting. Don't try to force a concept. If you do, the end result will look forced. Many times my subconscious will work on a problem while I'm sleeping.

Some of my competition carvings originate with a customer's request. In this case, I sat down with my customer to discuss specifics and ideas after I received the great specimen. We decided on a half-life-sized ruffed grouse in a particular stance and posture and agreed that the carving would compete at the Worlds.

Since entering his first competition in 1994, Jerry Simchuk has competed regularly at top-level bird carving shows around the country. A full-time artist since 2004, Jerry has been creating wildlife art sculptures in bronze. He currently lives in Spokane, Washington, where he continues to build his reputation as a wildlife artist, carver, judge, and instructor. You can reach him at Jerry@Simchuk.com.

Read the rest of this article in Wildfowl Carving Magazine's Spring 2015 issue.
YOUR RECENTLY VIEWED ARTICLES
Free tutorials, expert tips, exclusive partner offers, and more straight to your inbox!