Alexander and Maria
This pair of great crested grebes has a touch of royalty.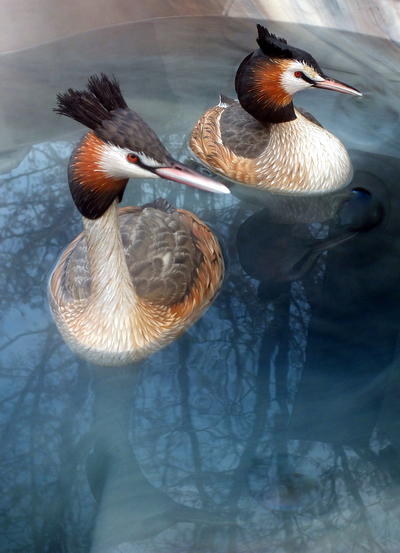 Early in 2012, I learned that the pair competition at the 2014 Ward World Championship would be grebes. I have had some success with my grebe carvings in the past and knew this was something I had to do. At first, I wanted to do a pair of pied-billed grebes, an adult female, and a juvenile male. I got busy and carved three juvenile birds, critiquing each before moving on to the next. I planned to enter my fourth effort. Then the photographer who had been supplying me with reference photos sent me a picture he had received from Europe. It was of an adult great crested grebe. That was all it took for me to change course. The bird was beautiful! I had to do a pair.

Although I had once seen a great crested grebe while in England in 1978, I knew nothing about the species. I needed more information. I went to the Internet for photographs and videos, but still needed measurements and feather shapes. I contacted the Carnegie Museum of Natural History in Pittsburgh, Pennsylvania, which had 21 study skins on hand and loaned me a couple. One of them came from Montenegro in 1930. At that time, the ruler of that region was Alexander I. So I decided to name these birds after him and his wife, Maria.

Three major areas in particular, provided me with challenges—the head crests, the wet side pocket feathers, and the paint job that would make them stand out.

I am always in a hurry to get into the wood and get some carving done, and this has always been a problem for me. This time, I took the time to make a clay model of the bird. I also did a life-size carving of the head, showing the crest, and attempting a paint job that would draw attention. I did not like this first crest, which I made from crushed bamboo hardened with superglue. It was too brittle. For my second effort, I tried the reeds used for basket making. They were flexible and had the look I wanted.

For the side pockets, I studied all the photos that I could gather to make sure the feathers looked like they were wet. On all the grebe carvings I have seen, except one, these feathers had been treated to look like duck feathers. That is not what my references show.
 
I completed my first pair of great crested grebes, knowing that if I critiqued them honestly, I could do a better job on my second pair. The photos in the article are of my second pair of birds.

This article is from the Fall 2014 issue. For more information on our issues, check out our issues page.
YOUR RECENTLY VIEWED ARTICLES
Free tutorials, expert tips, exclusive partner offers, and more straight to your inbox!