Sea Mice
If it swims like a duck but squeaks like a mouse, it might be a harlequin.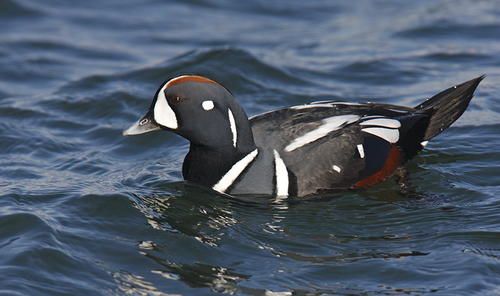 Photo by Bruce Divaccaro
"There it is," the leader of our group called as she aimed her spotting scope toward the center of the St. Mary's River, the home of the Soo Locks and the only outlet for the frigid waters of Lake Superior. We were staring toward the Canadian shoreline on a sunny but cold winter's day and scanning a long stretch of rapids looking for a harlequin duck (Histrionicus histrionicus), a species that does not normally spend any part of its life on a Midwestern river.

Most harlequins spend the winter riding the heavy surf of Alaska, far western and northeastern Canada, and parts of Greenland. There small groups ride near-shore breakers, chittering and chattering back and forth in high squeaky voices that give rise to one of their common names: "sea mice." Sea mice move inland in the spring to raise families on cold northern rivers bubbling with whitewater rapids. Our bird was far south of its normal range and far from its usual seasonal habitat, giving us a rare chance to see what is otherwise a reclusive and mysterious species of waterfowl.

There are several ducks that are cold hardy, but the one-and-a-half pound harlequins are among the toughest. They easily root through rocky river bottoms as rapids tumble overhead, and swim through pounding surf to grab barnacles and crabs from underwater cliff faces and rocky outcroppings. Dense, well-kept feathers trap heat close to the ducks' bodies as they swim through waters too challenging for most other birds. When harlequins need a break, they simply stop swimming and pop back to the surface. There they bob between the riffles and waves like bottles at sea.
YOUR RECENTLY VIEWED ARTICLES
Free tutorials, expert tips, exclusive partner offers, and more straight to your inbox!